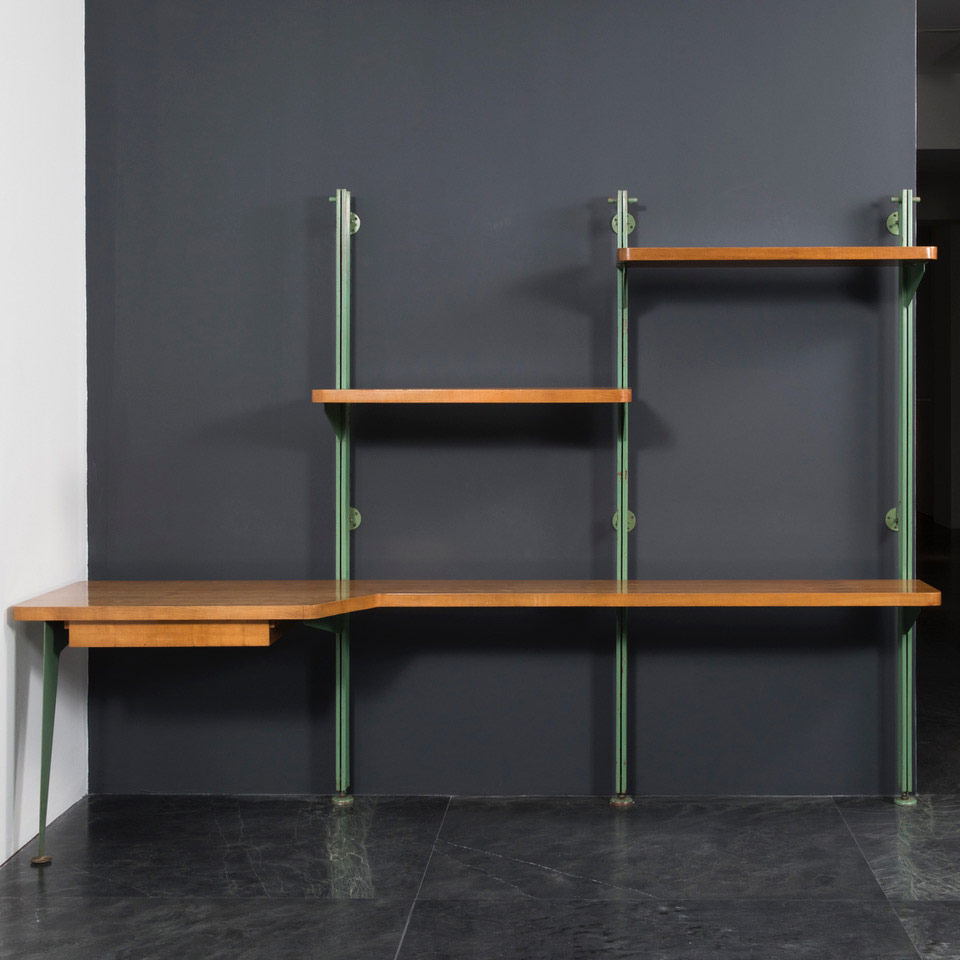 Uprights and brackets on racks made of green lacquered sheet steel, top, drawer and shelves in solid cherry
Dimensions: H. 81.4 x L. 110.6 x P. 27.5 in.
Provenance :
Special commission for the Villa Dollander, Saint Clair, France
In :
– Peter Sultzer, Jean Prouvé, Œuvre complète/Complete Works Vol 2: 1934-1944, Ed. Birkhäuser, p. 285 et
Vol 3: 1944-1954, pp. 62 et 176 (pour un modèle similaire)
– L'Architecture d'aujourd'hui : habitations 50, numéro 30, juillet 1950
Shelf suspended on racks forming a desk, 1951
The principle of the rack shelf dates from the studies and commissions made from 1941 for the important orders at the time (Berger-Levrault prinery in Nancy, Jean Prouvé's apartment in Nancy). They are composed of bars, vertically positioned versus the wall, on which the adjustable racks are then attached. Different models with variations will be studied and commercialized by Ateliers Jean Prouvé over the following ten years. For the house in Lavandou, in Saint-Clair, Jean Prouvé creates in 1951 an important rack shelf that consists of large shelves as well as a small desk in the lower part, on the side. The form of the top retakes a model studied ten years earlier for the SCAL, in Issoire, for a wooden console that ran along the whole wall; they were installed in every bedroom, inside the demountable houses. Jean Prouvé will pursue the concept with sideboards fixed on the racks, the model of which will be commercialized in 1949 by Steph Simon.