Maisons de Vacances, Maisons de la Côte !
Holiday Homes, Houses on the Coast!
Quel bonheur de penser aux vacances !
Les vacances d'été apparaissent véritablement au milieu du Second Empire (1852-1870). C'est à ce moment-là que de grands mécènes, souvent de grandes fortunes locales réfléchissent, sur les bords de la Méditerranée, à développer le tourisme, notamment par la construction de « maisons de vacances ». De Sète à Menton, de très belles maisons commencent à se construire…
What a pleasure to think about holidays!
The summer holidays really appear in the middle of the Second Empire (1852-1870). It was at this time that great patrons, often with great local fortunes, thought about developing tourism on the shores of the Mediterranean, in particular by building « holiday homes ». From Sète to Menton, very beautiful houses are starting to appear …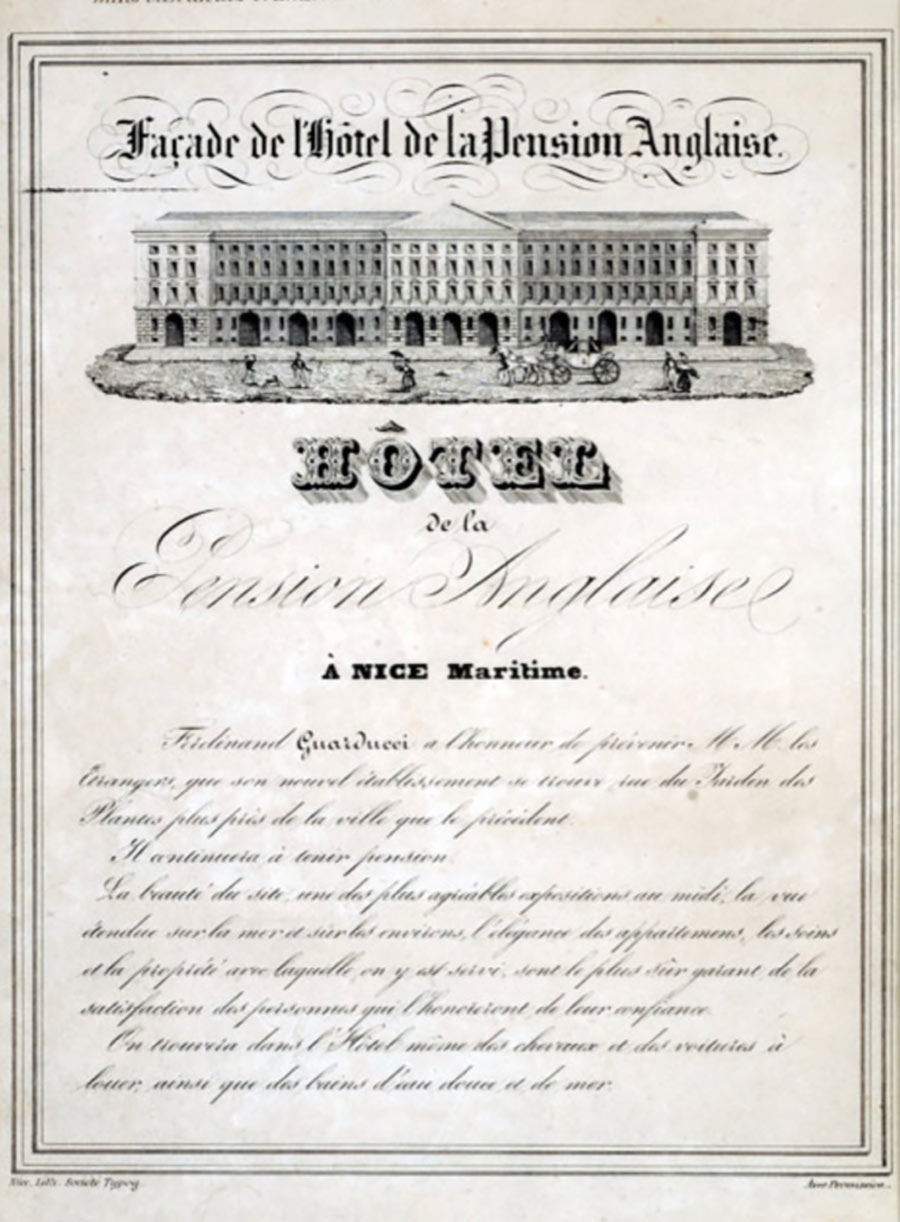 D.R.
A la belle époque, des hôtels et de très belles villas appartenant à des fortunes françaises et européennes, ainsi qu'à la noblesse russe, se construisent autour de grandes villes qui commencent à de développer. Ces premiers Palais d'été sont parfois en compétition, elles doivent en effet refléter la fortune et le goût des propriétaires, et ainsi asseoir leur statut social !
During the Belle Epoque, hotels and very beautiful villas belonging to French and European fortunes, as well as to the Russian nobility, were built around large cities which were beginning to develop. These first summer palaces are sometimes in competition, they must indeed reflect the fortune and taste of the owners, and thus establish their social status!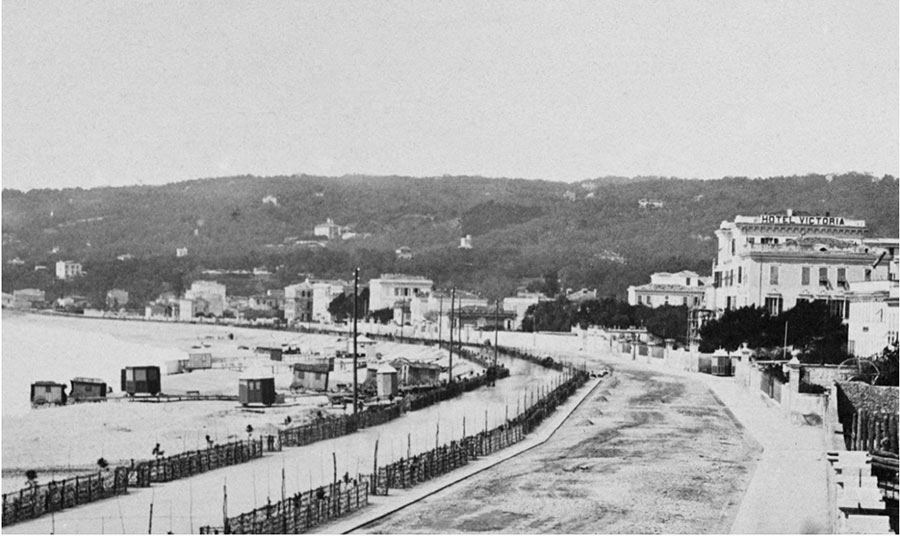 D.R.

D.R.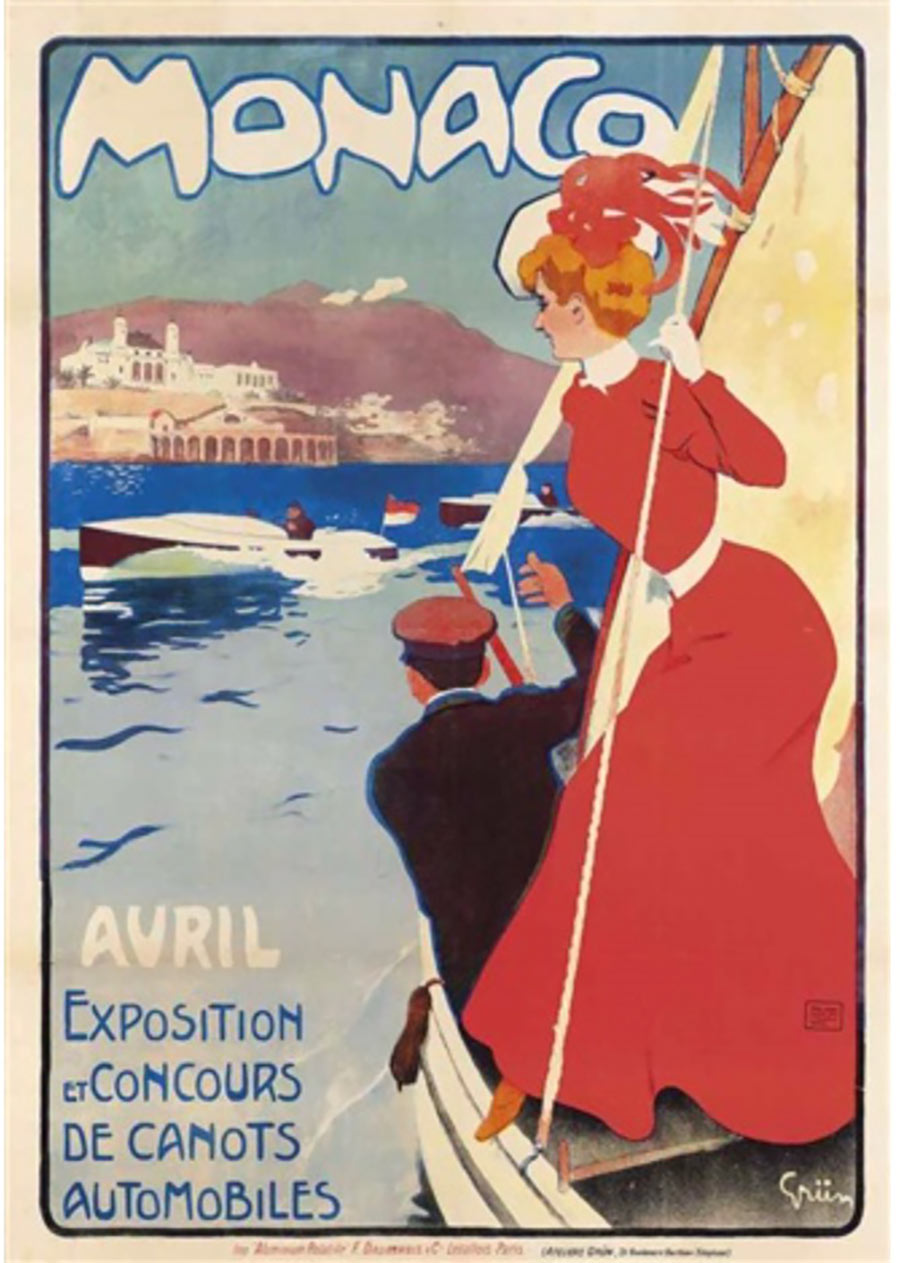 D.R.
Les années folles apportent le grand changement, un souffle nouveau qui se repend sur les villes de la Côte d'Azur ; on constate dès lors une « internationalisation » de ces lieux devenus mythiques, pour une jet-set allant du Maharadjah d'Indore aux Noailles…
The Roaring Twenties brought about a great change, a new breath that spreads over the villages of the Côte d´Azur; we can therefore see an « internationalization » of these places that have become legendary, for a jet set ranging from the Maharajah of Indore to the Noailles…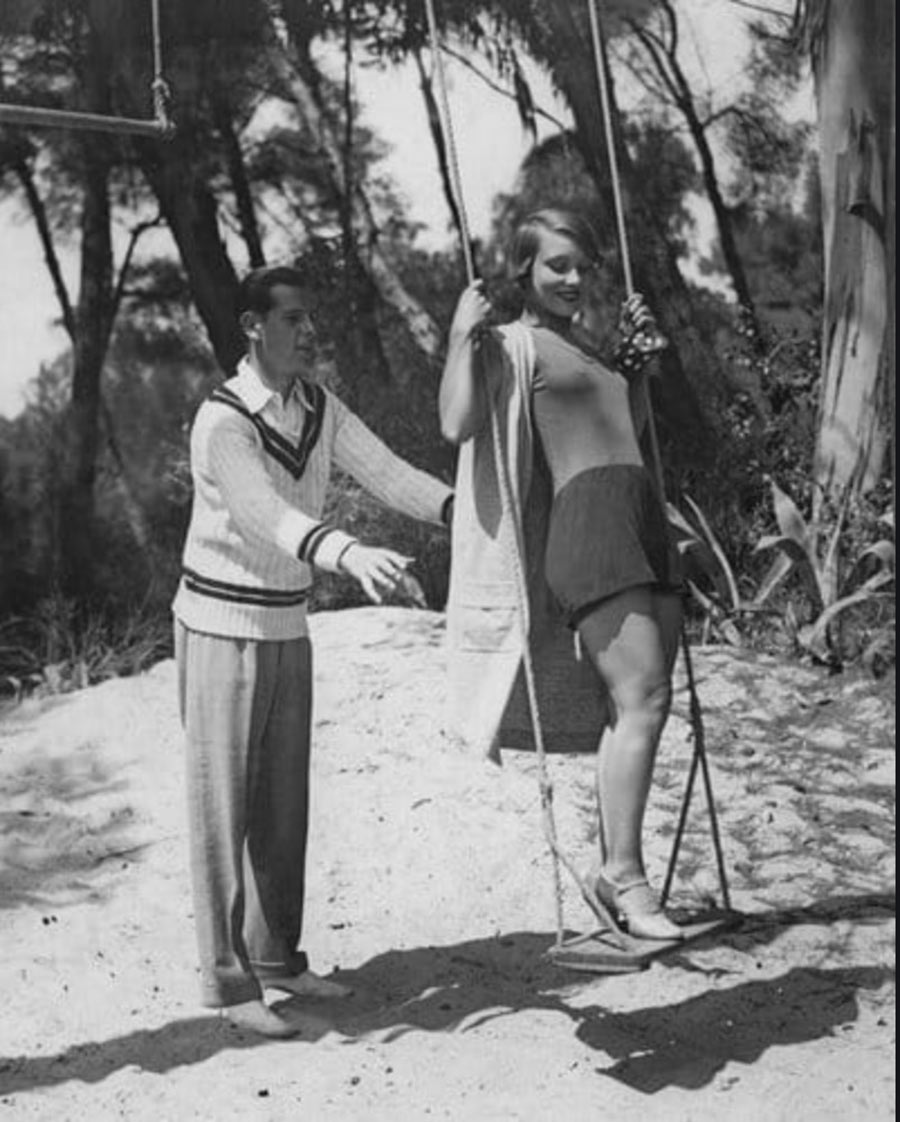 D.R.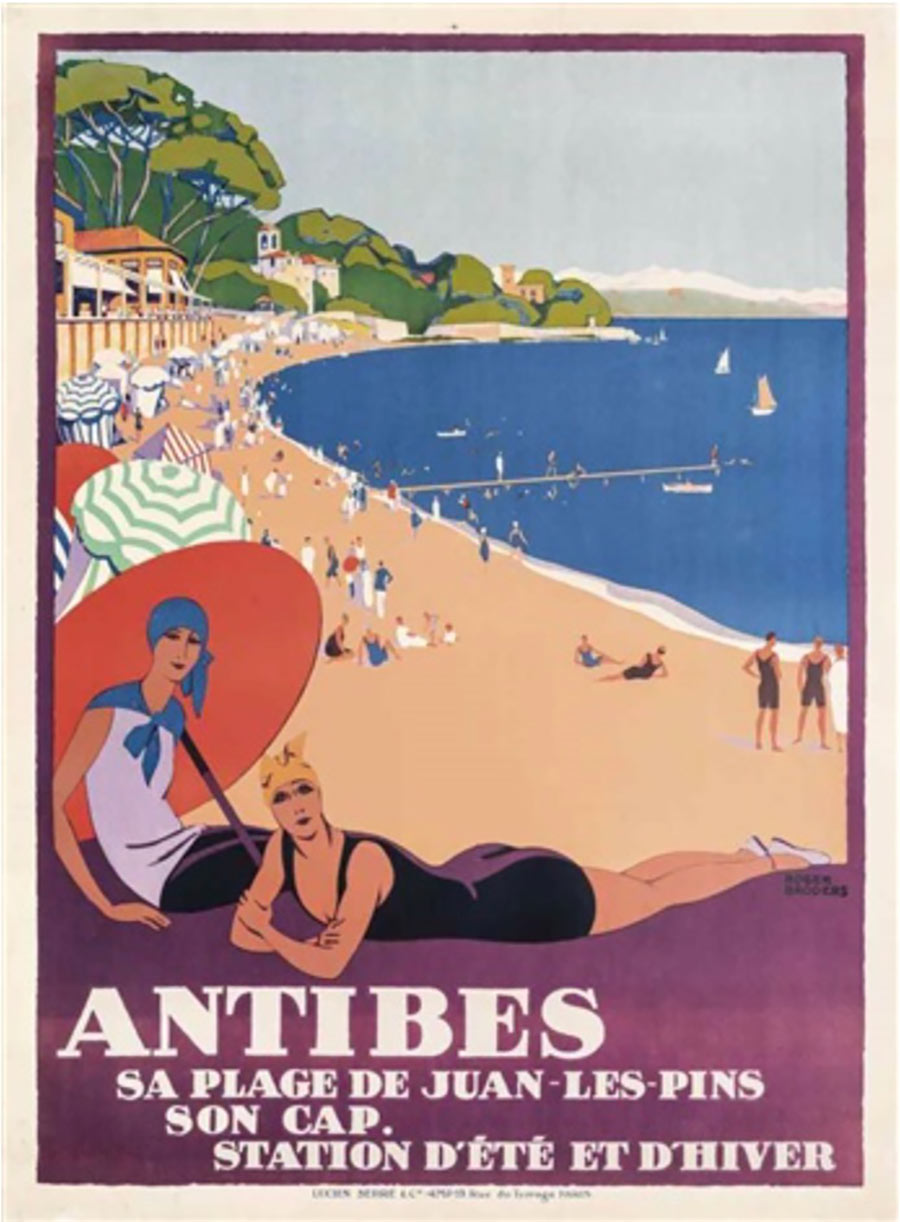 D.R.
Les Noailles commandent en 1923, une maison au grand architecte parisien Robert Mallet-Stevens, sur les hauteurs de Hyères… Meublé par l'architecte lui-même, ainsi que par Pierre Chareau, ce palais moderniste aux formes cubiques leur permet d'inviter les plus grands artistes et des personnalités célèbres lors de somptueuses fêtes organisées sur place. Le surréaliste Man Ray y tournera en 1929 un film : Le Mystère du Château de Dé !
In 1923, the Noailles ordered a house from the great Parisian architect Robert Mallet-Stevens, on the heights of Hyères… Furnished by the architect himself, as well as by Pierre Chareau, this modernist palace with cubic shapes allows them to invite greatest artists and famous personalities during sumptuous parties organized on site. The surrealist Man Ray will shoot a film there in 1929: Le Mystère du Château de Dé!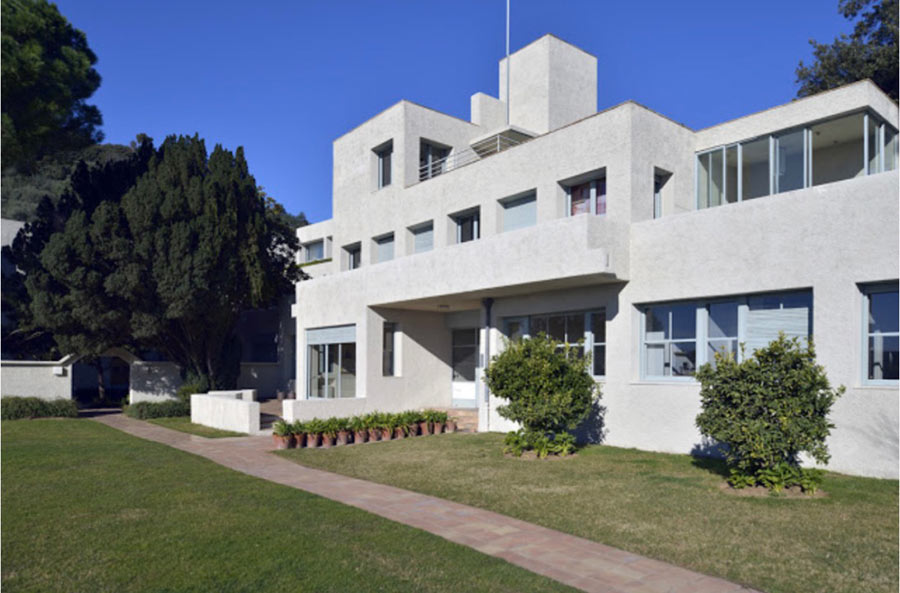 D.R.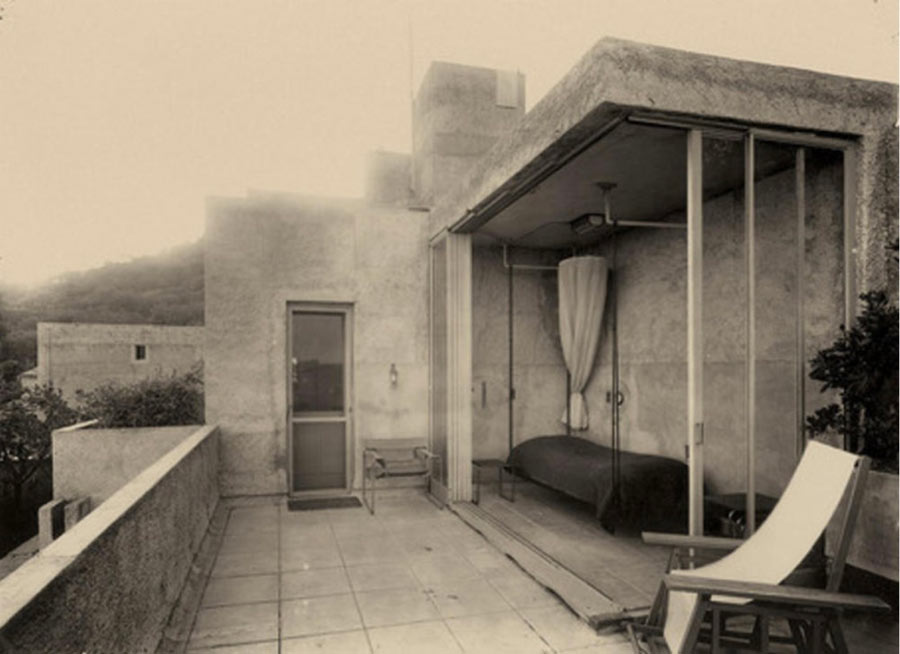 D.R.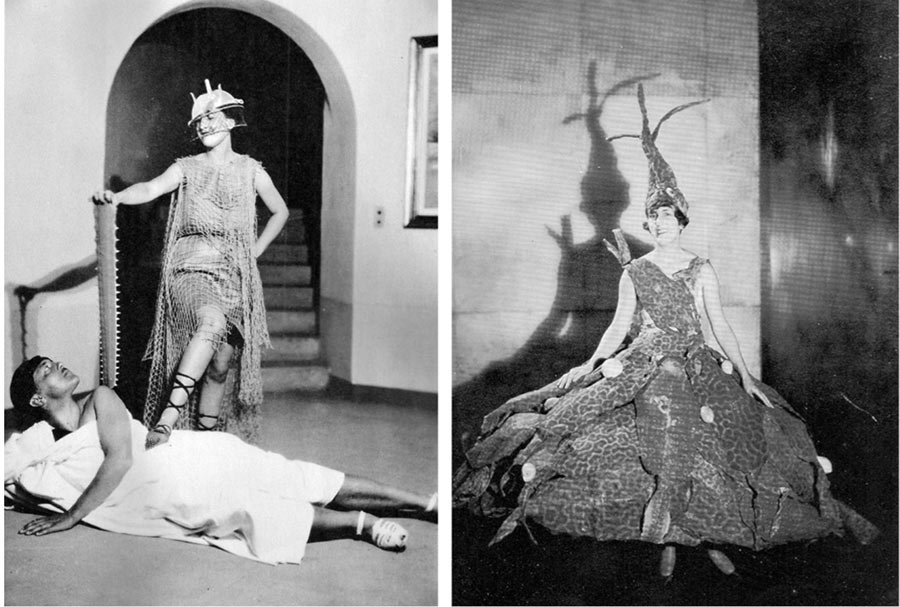 D.R.
A la même époque, Eileen Gray qui est à la recherche d'un cocon afin de se retrouver avec l'architecte Jean Badovici, dessine et construit sa propre maison, au bord de l'eau : La villa E-1027. De forme géométrique, cette architecture très minimale et dépouillée est tournée vers la mer ! Pour l'aménagement intérieur, Eileen Gray dessine des meubles en tube de métal qui contrastent alors avec les meubles de sa boutique à Paris, « Jean Désert ».
At the same time, Eileen Gray, who was looking for a cocoon to meet up with the architect Jean Badovici, designed and built her own house on the waterfront: Villa E-1027. Geometrically shaped, this very minimal and stripped-down architecture faces the sea! For the interior design, Eileen Gray designed furniture in metal tubes which contrasted with the furniture in her Parisian store, « Jean Désert ».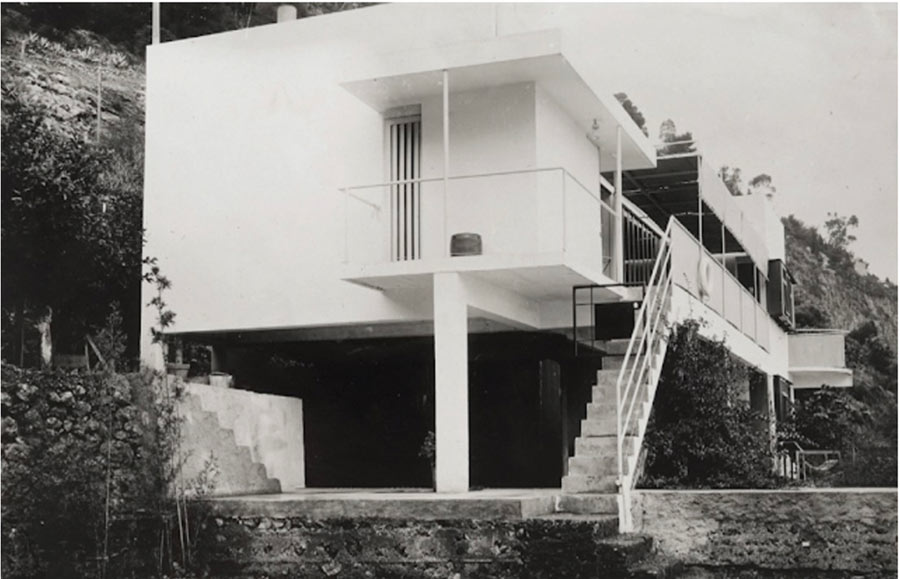 D.R.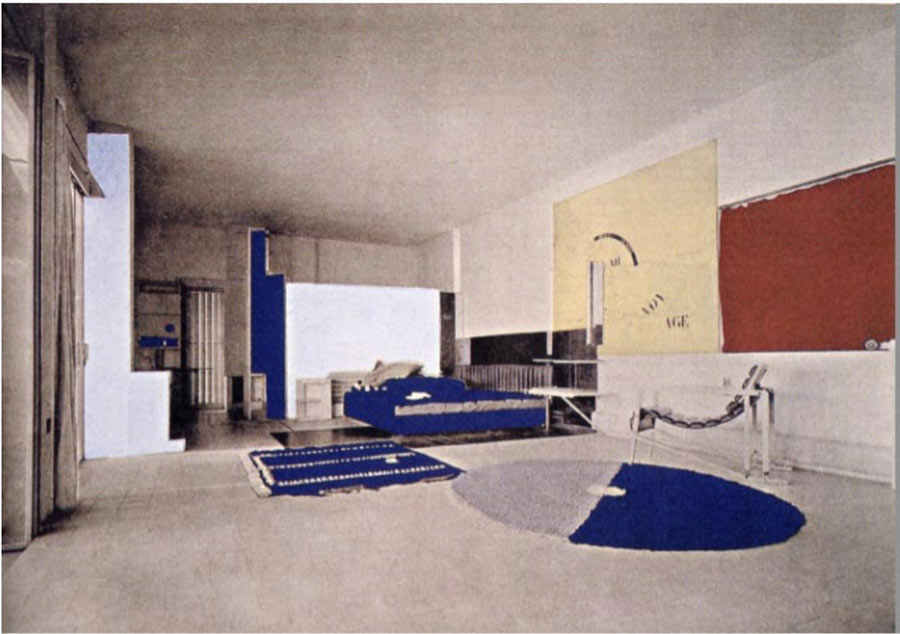 D.R.
Avec le grand changement des congés payés, et la célèbre loi de 1936, le monde se démocratise, et cela permet ainsi à toutes les couches de la population d'avoir accès à de vraies et longues vacances d'été, parfois pour la première fois. Il faudra ensuite attendre l'après-guerre et les années 50 pour voir se développer des vacances plus généralisées.
With the big change concerning paid holidays, and the famous law of 1936, the world is democratized, and this allows all layers of the population to have access to real and long summer vacations, sometimes for the first time. It's at the post-war period and the 1950s that we witness the development of more democratized vacations.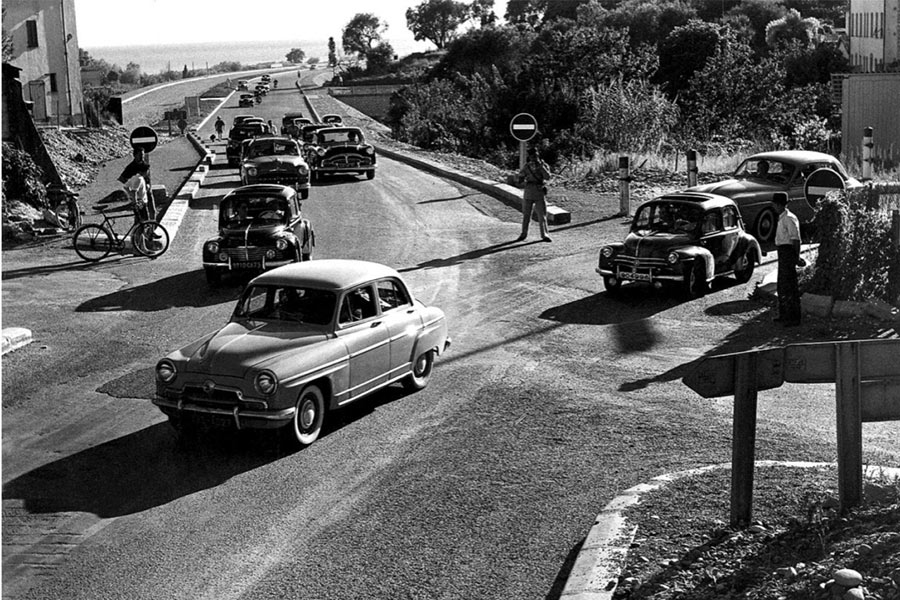 D.R.
Les vacances des années 50 sont la joie de vivre, l'insouciance, le bonheur des moments en famille, comme celle si bien exprimées dans « Les vacances de Monsieur Hulot » de Jacques Tati.
The holidays of the 1950s are the joy of living, the carefree life, the happiness of family moments, as so well expressed in « The Holidays of Monsieur Hulot » by Jacques Tati.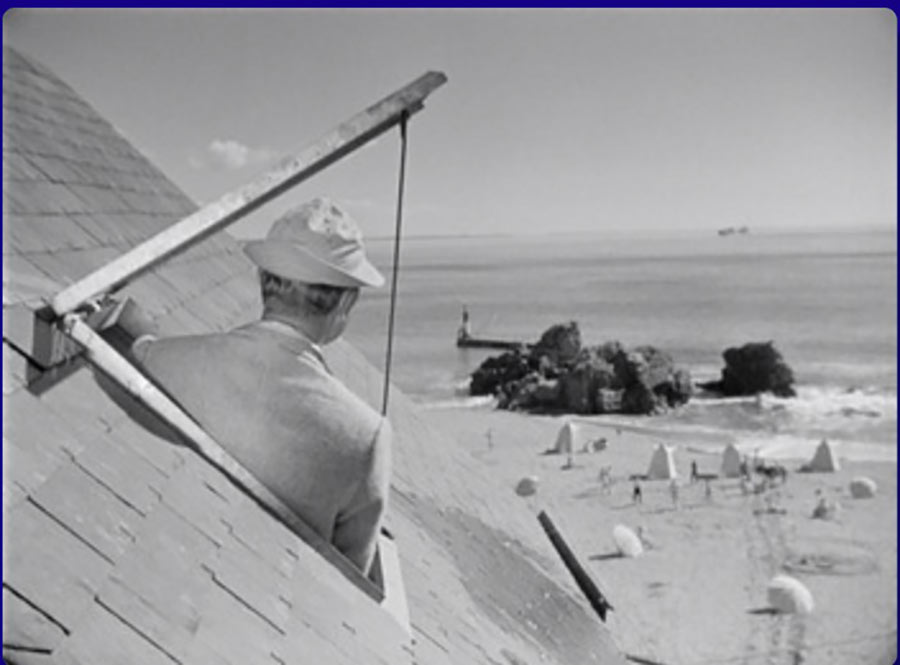 D.R.
Mais les vacances des années 50, c'est aussi – et ne l'oublions pas ! – les années yéyé avec les premières « star-systems » en France, héritées des Pin-ups aux USA… Des personnages comme le jeune chanteur souriant Claude-François ou encore la belle Brigitte Bardot, très dévêtue, deviennent de vraies références pour la musique, au cinéma, et dans la mode… Toutes ces ambiances de soirées d'été, proches des vacances à l'italienne mais néanmoins très françaises, créent un nouvel univers inoubliable !
But the holidays of the 1950s are also – and let's not forget that! – the yéyé years with the first "star-systems" in France, inherited from Pin-ups in the USA… Characters like the young smiling singer Claude-François or the beautiful Brigitte Bardot, very undressed, become real references for music , in the cinema, and in fashion … All these atmospheres of summer evenings, close to Italian holidays but nevertheless very French, create an unforgettable new universe!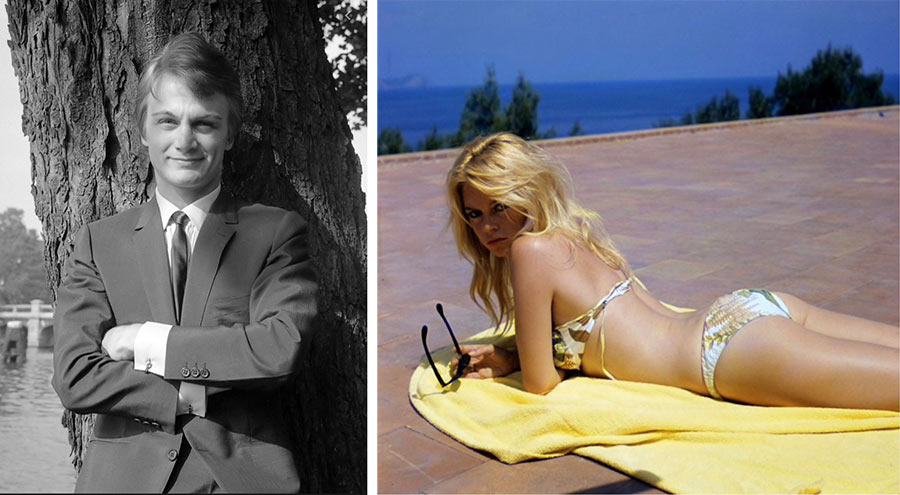 D.R.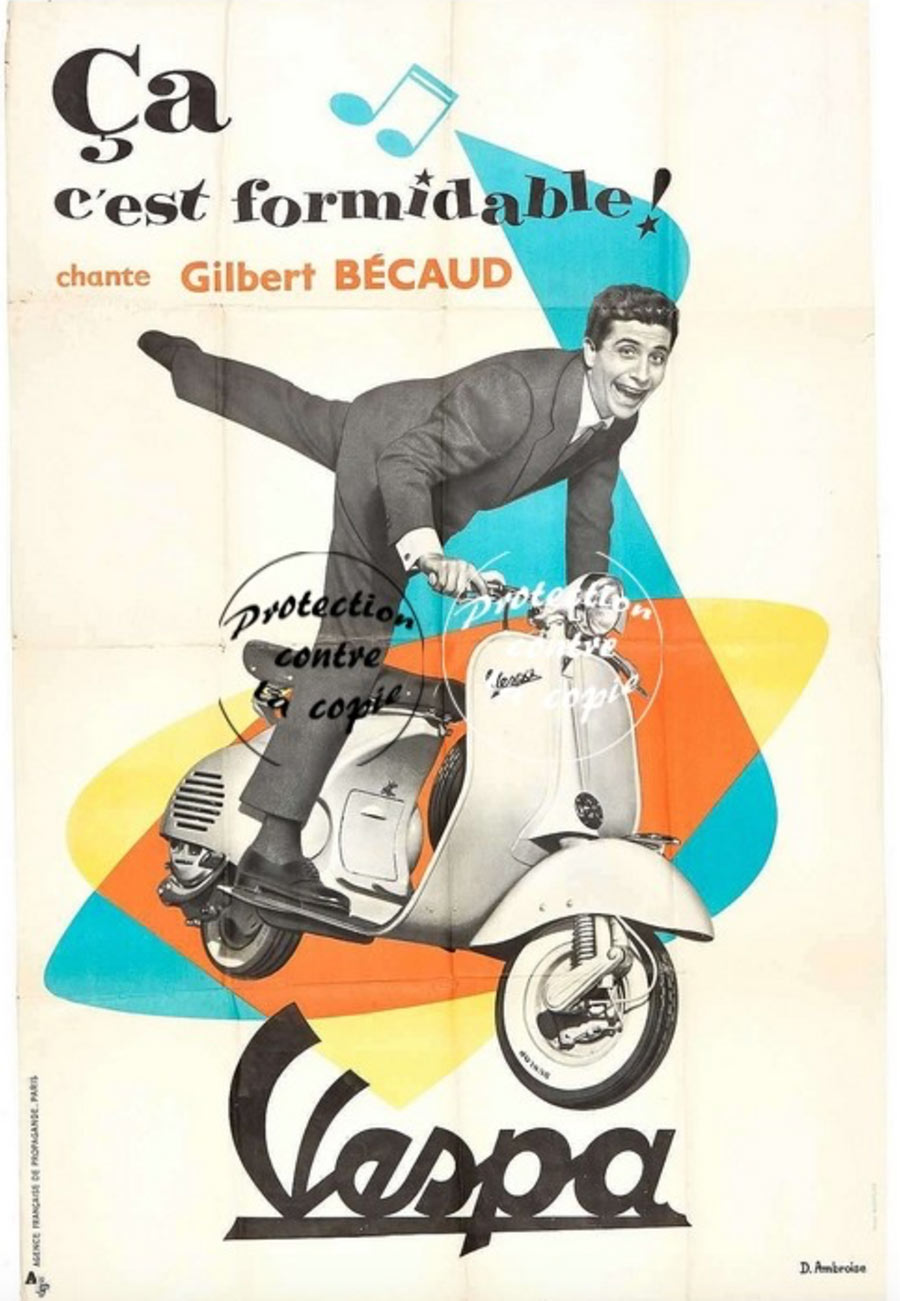 D.R.
C'est aussi dans ce contexte de joie, de couleurs flamboyantes et de développement économique – les Trente glorieuses – qu'une nouvelle architecture radicale apparaît sur la Côte d'Azur, à Toulon, Cannes, Nice, dans de hauts lieux du tourisme hexagonal ! Ce sont ces maisons qui vont aussi influencer les créateurs de héros de bandes dessinées de l'époque.
It is also in this context of joy, flamboyant colors and economic development – Trente glorieuses – that a radical new architecture appears on the Côte d'Azur, in Toulon, Cannes, Nice, in high places of French tourism! It was these houses that would also influence the creators of comic book heroes of the time.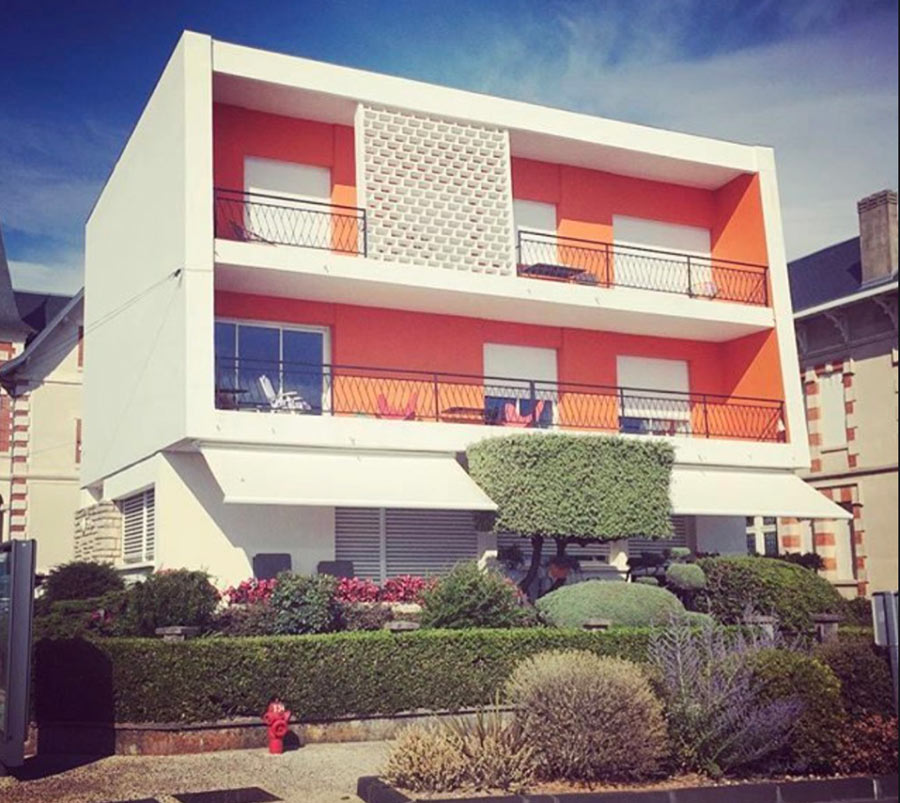 D.R.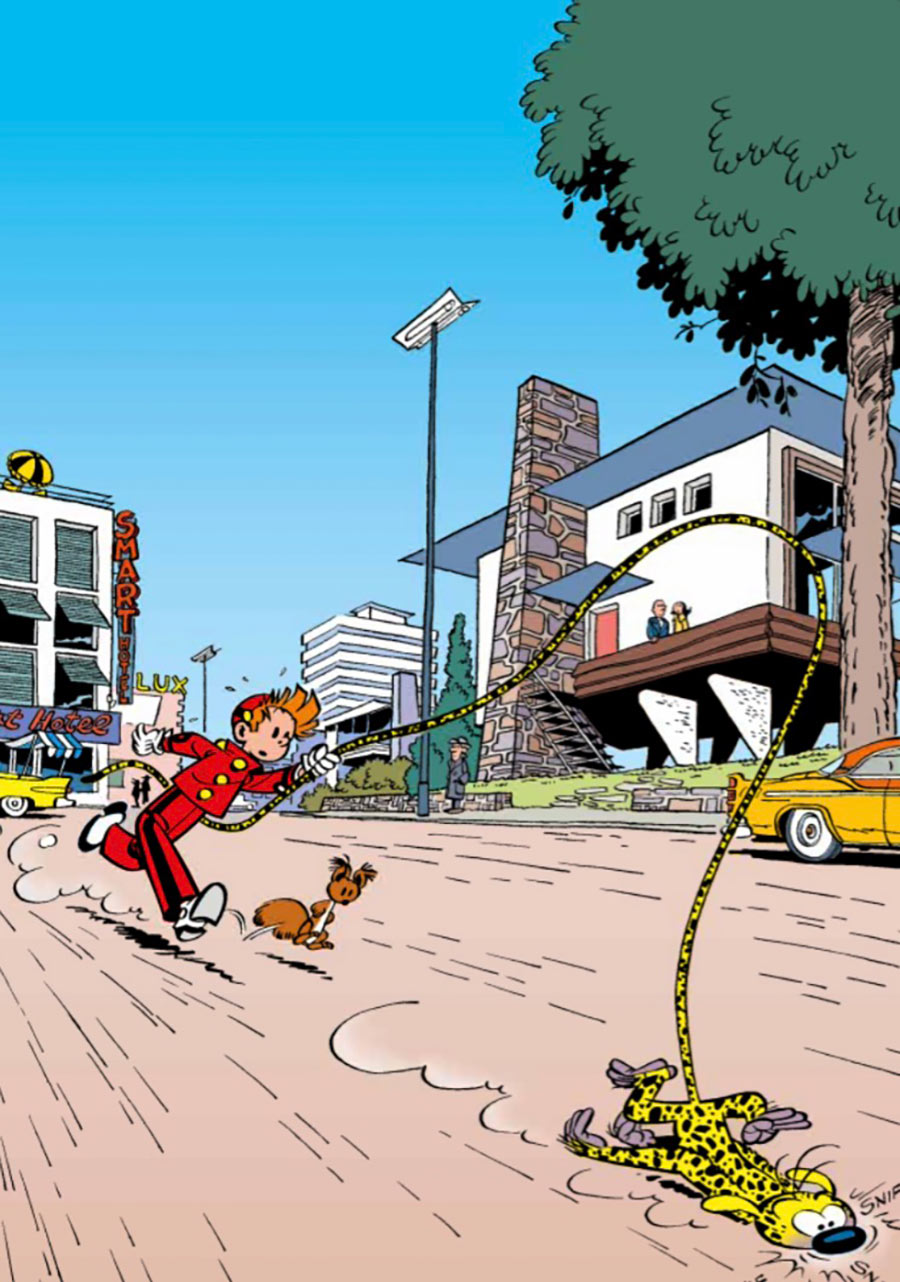 D.R.
A cette même époque, Jean Prouvé décide de transposer son principe de maison préfabriquée en Lorraine, au bord de la mer. Après l'expérience d'une Maison Tropicale – pour les pays chauds – à Niamey, en 1949, il réfléchit à un modèle de maison de vacances sur la Côte d'Azur. Basée sur le modèle des maisons 'Métropole' de Meudon, il dessine deux nouvelles maisons différemment compartimentées, vers 1951-1952 ; l'une pour le grand architecte Raymond Lopez, à Beauvallon, la seconde pour une famille d'industriels et amis lorrains : les Dollander.
At the same time, Jean Prouvé decided to transpose his principle of prefabricated house in Lorraine, by the sea. After the experience of a Tropical House – for hot countries – in Niamey, in 1949, he thought of a model of vacation home on the French Riviera. Based on the model of the "Métropole" houses of Meudon, he designed two new houses with different compartments, around 1951-1952; one for the great architect Raymond Lopez, in Beauvallon, the second for a family of industrialists and friends from Lorraine: the Dollander.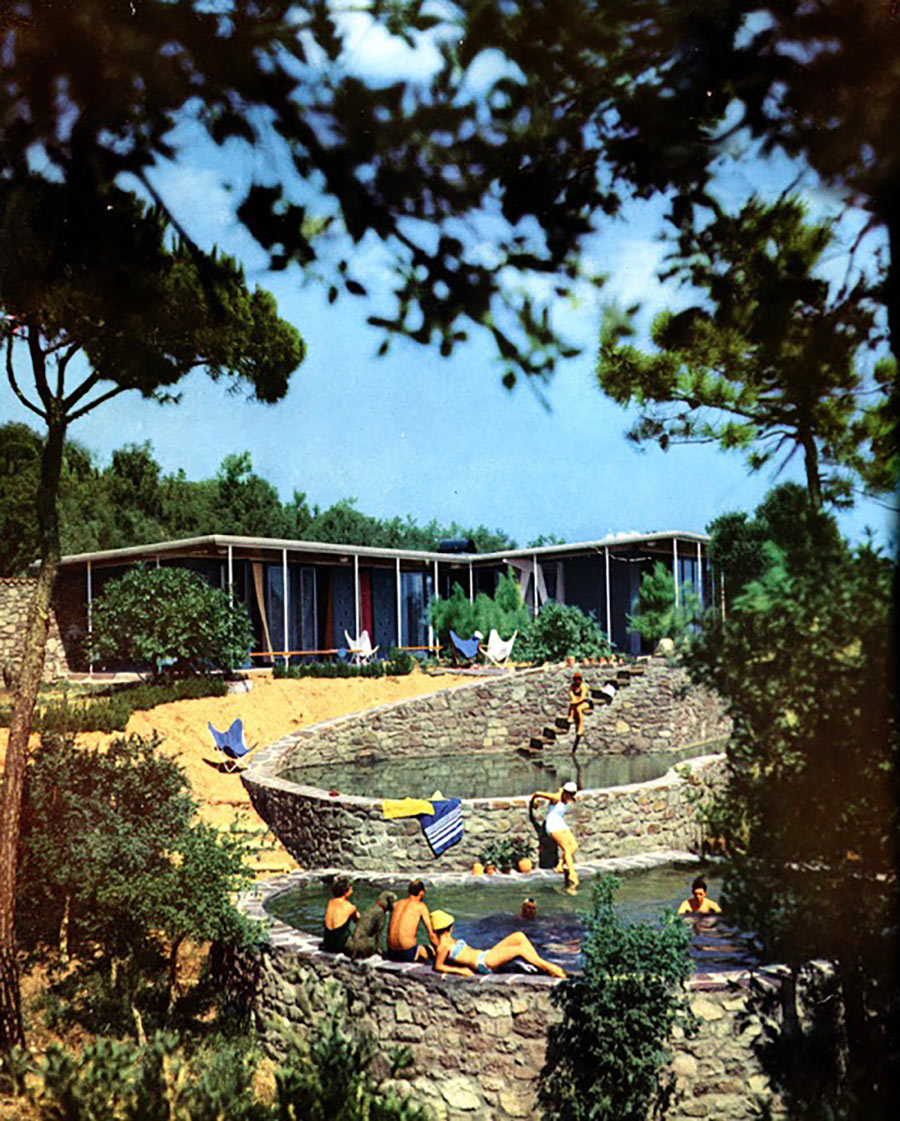 © La maison Française – 1957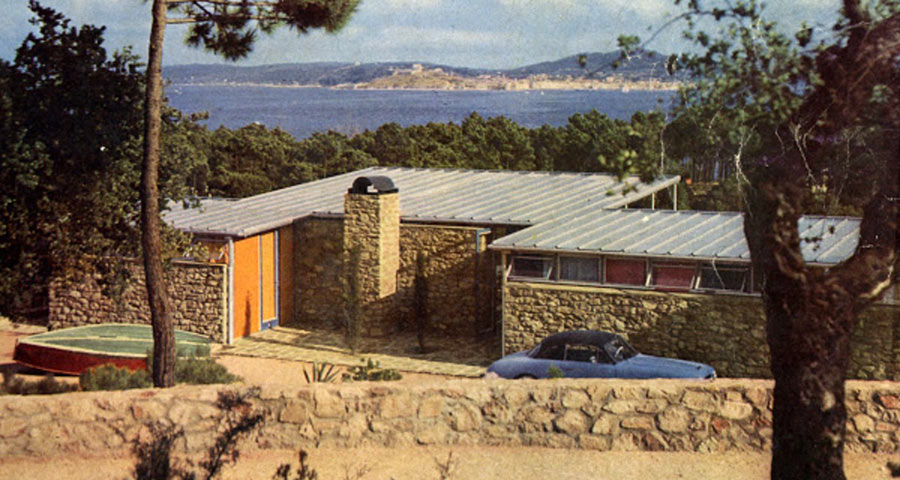 © La maison Française – 1957
Conçues sous le principe d'un portique axial qui traverse de part en part le salon et qui va jusqu'à la terrasse, Jean Prouvé créé surtout un espace très ouvert, adapté au climat méditerranéen dont la famille profite.
Designed on the principle of an axial portico that crosses right through the living room and goes to the terrace, Jean Prouvé especially creates a very open space, adapted to the Mediterranean climate, which the family enjoys.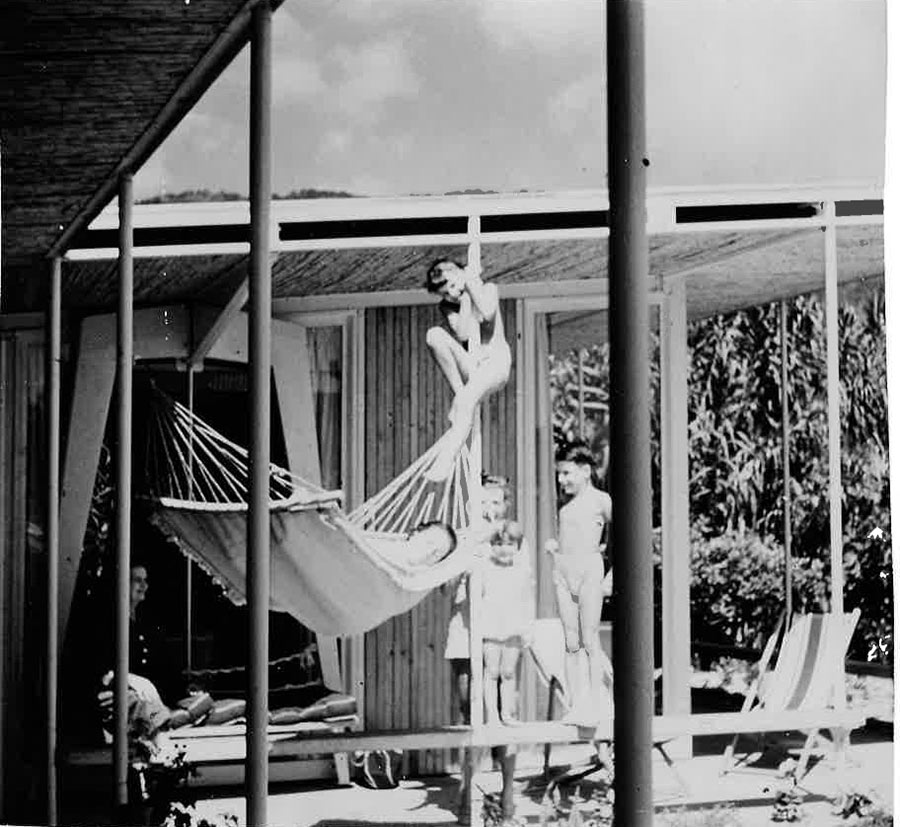 D.R.
Les panneaux de façade fixés sur l'avant de la maison, comme un rideau, forment la façade en mur-rideau, que développe Jean Prouvé depuis 1935, depuis la Maison du Peuple, à Clichy. La maison est légère, ouverte et elle présente une nouvelle forme d'architecture épurée avec un large patio extérieur qui contourne la maison ! On est proche du mode d'architecture de certaines maisons américaines, auquel s'ajoute le fait qu'il n'y a pas d'étage, détail non-négligeable.
The facade panels attached to the front of the house, like a curtain, form the curtain wall facade, which Jean Prouvé has been developing since 1935 from the Maison du Peuple in Clichy. The house is light, open and it presents a new form of clean architecture with a large outdoor patio that surrounds the house! We are close to the architectural style of some American houses, to which is added the fact that there is no second floor, a significant detail.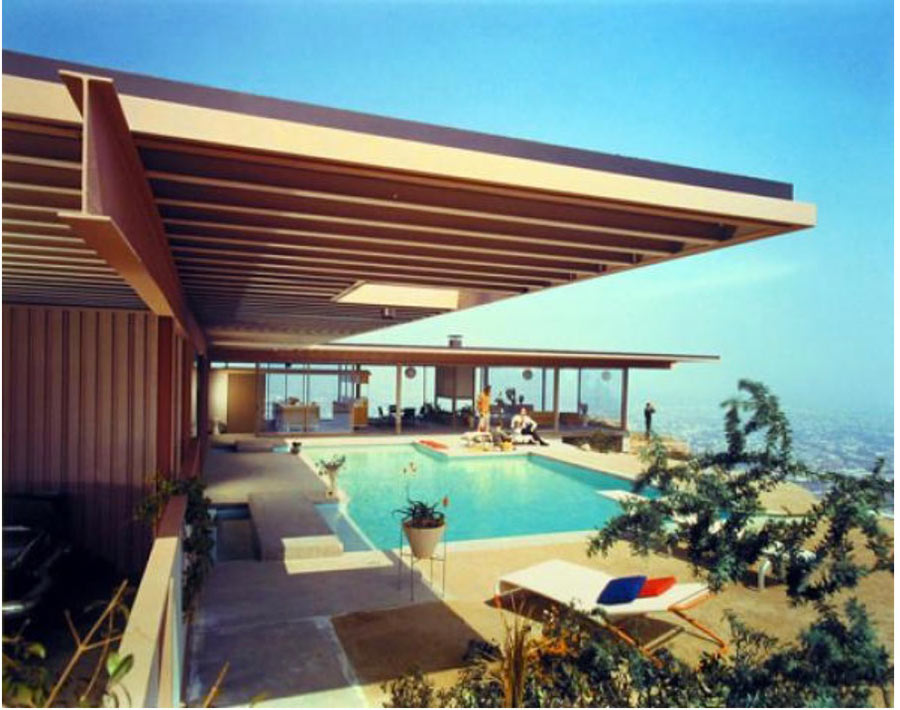 D.R.
Jean Prouvé dessine aussi un certain nombre de meubles et d'éléments caractéristiques que l'on retrouvera répartis dans la maison et qui rythment l'espace quotidien, dont une très belle étagère-bureau à crémaillère, pièce unique…
Jean Prouvé also designs a certain number of furniture and characteristic elements that will be found throughout the house and which punctuate the daily space, including a very beautiful shelving system, a unique piece …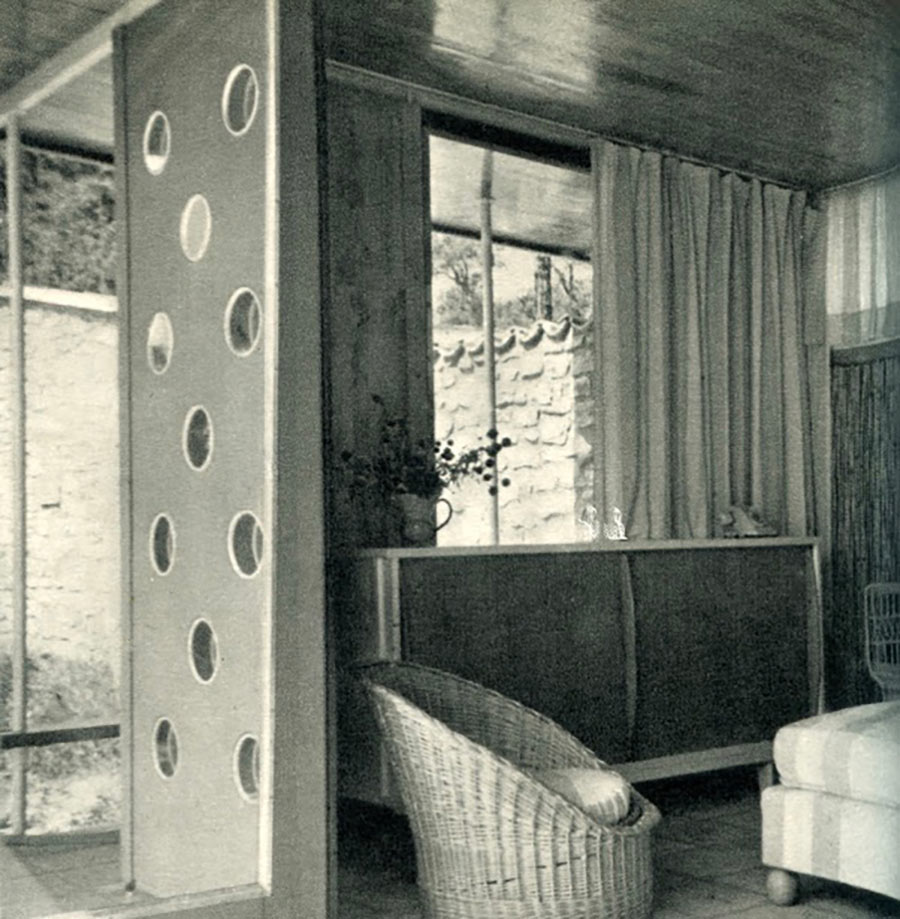 D.R.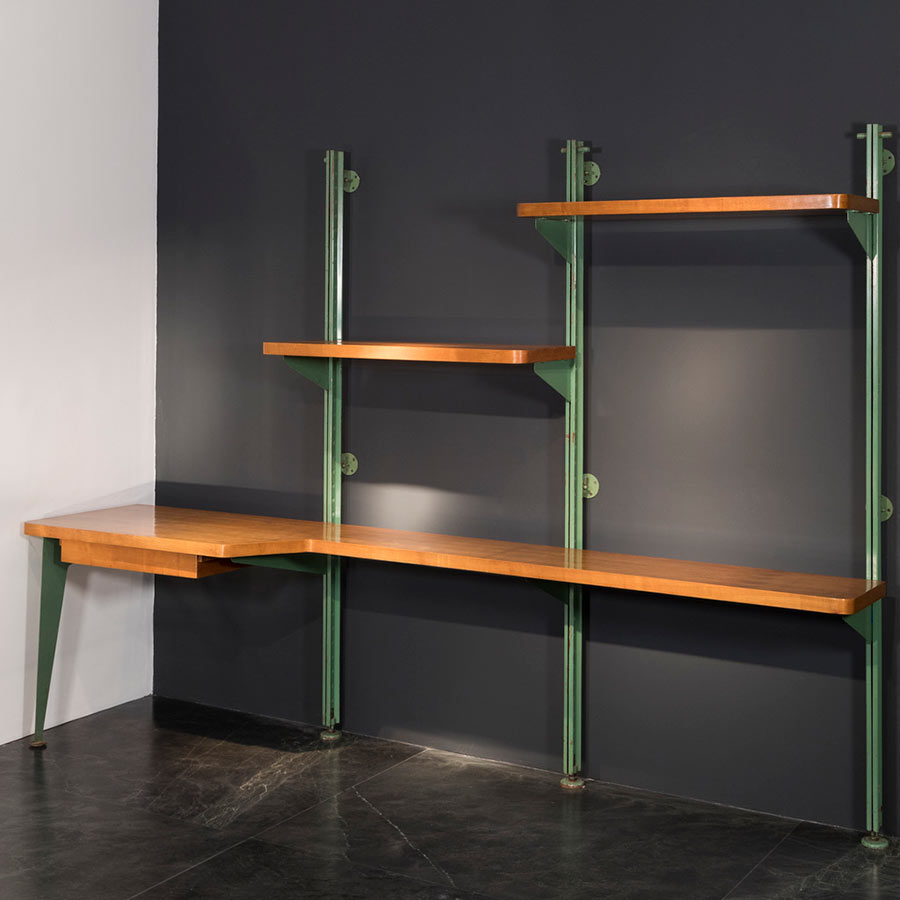 © Galerie Downtown – François Laffanour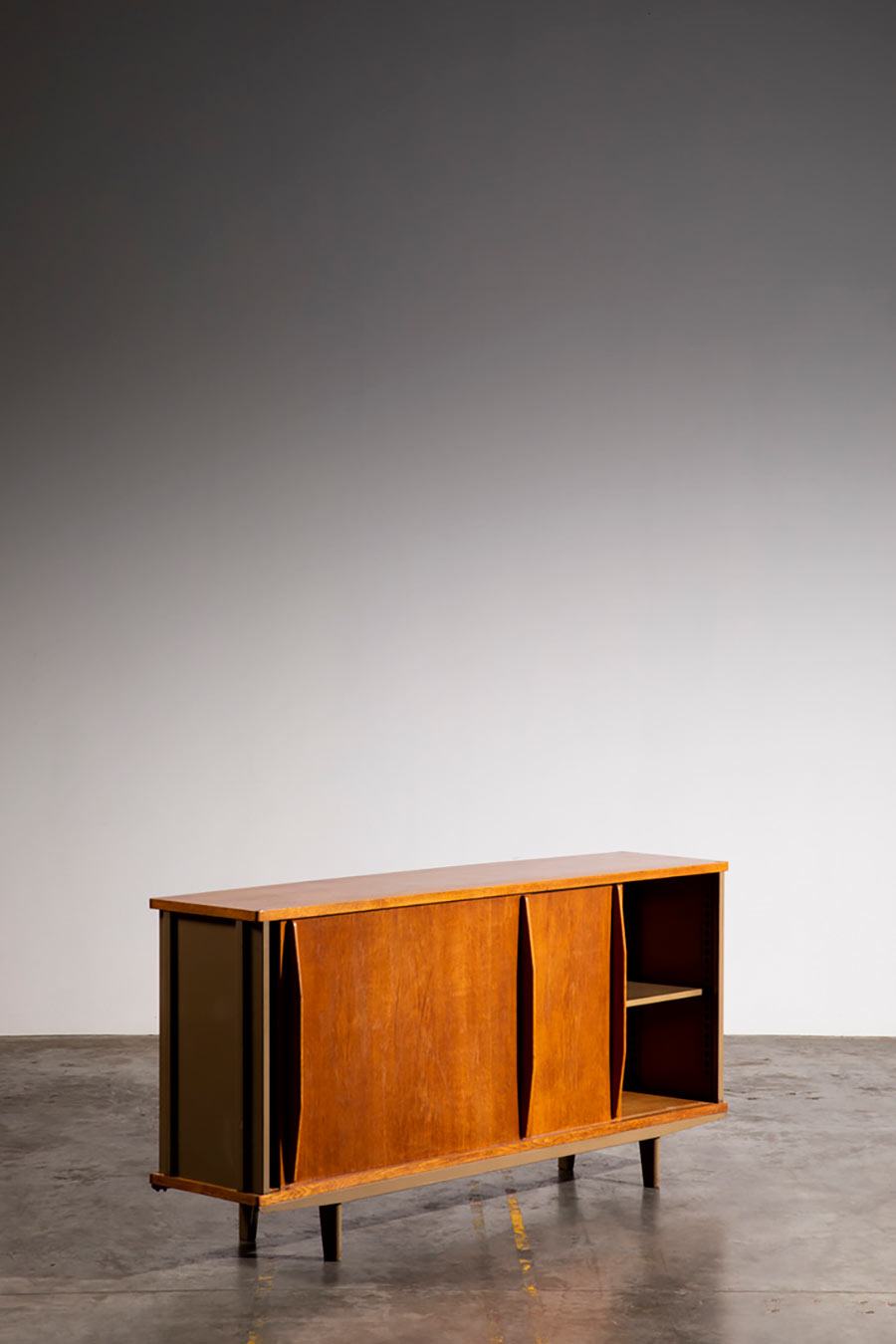 © Galerie Downtown – François Laffanour
… Mais les années 50 ne sont pas éternelles. Et voilà que déjà, à l'horizon, se profile une nouvelle ère : les années 60-70 avec une nouvelle génération de jeunes musiciens, cinéastes, écrivains, artistes qui transforment la scène culturelle française et le monde qui l'entoure. Le festival de Cannes est annulé en mai 1968 car c'est aussi une période de troubles, de révoltes et de grandes contestations en France !
… But the 1950s are not eternal. And now, on the horizon, a new era is looming: the 1960s and 1970s with a new generation of young musicians, filmmakers, writers, artists who are transforming the French cultural scene and the world around it. The Cannes Film Festival was canceled in May 1968 because it was also a period of unrest, revolts and great protests in France!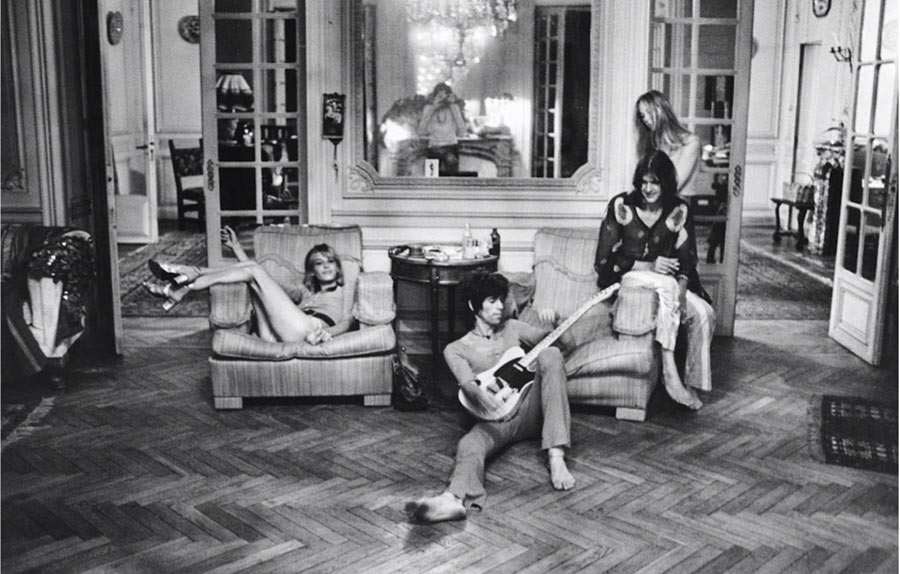 D.R.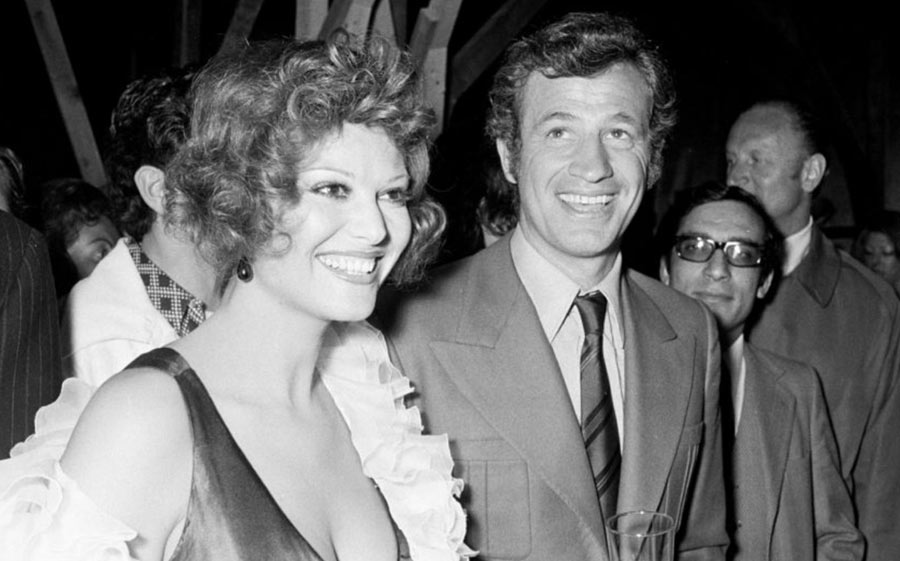 D.R.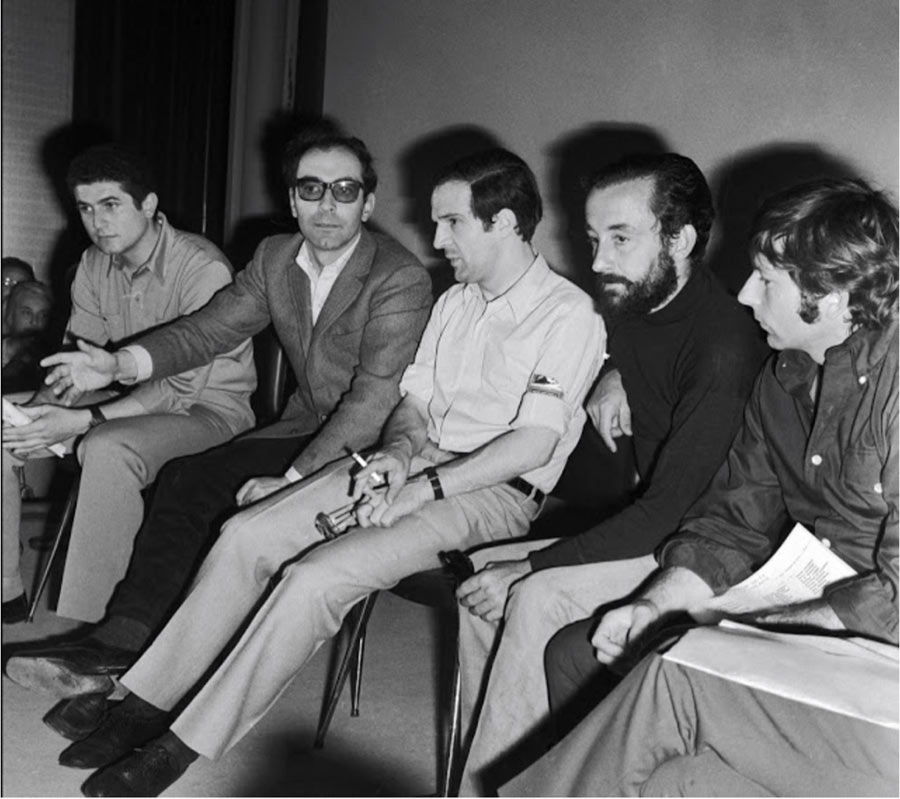 D.R.
Mais l'architecture de vacances continue de se développer car de nouveaux architectes regardent et créent le monde autrement. 30 ans après les premiers congés payés, 20 ans après la seconde guerre mondiale, les architectures de bords de mer vont se transformer peu à peu, afin de pouvoir répondre plus précisément à la demande de masse !
But holiday house architecture continues to develop as new architects look and create the world differently. 30 years after the first paid holidays, 20 years after the Second World War, seaside architectures will gradually change, in order to be able to respond more precisely to mass demand!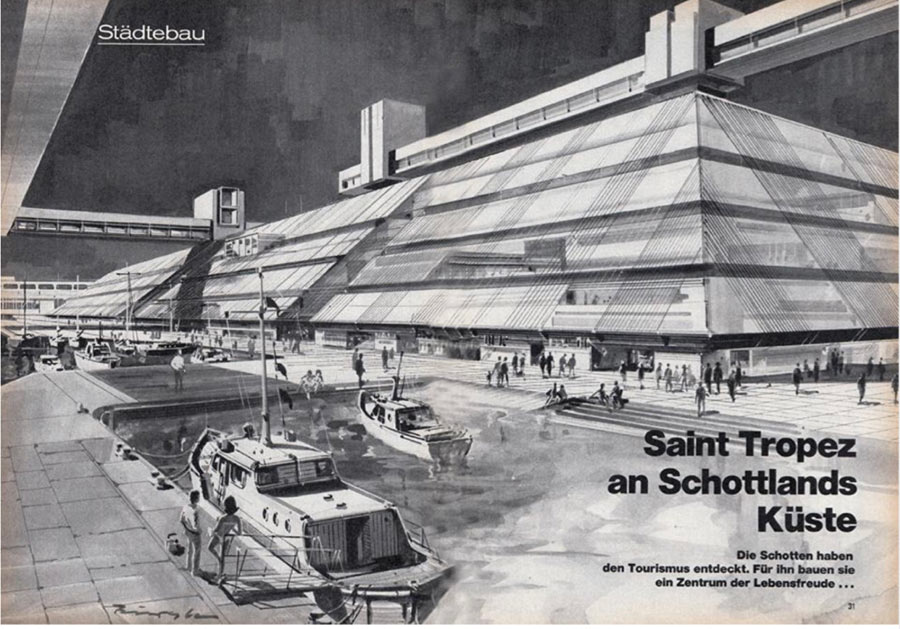 D.R.
Des complexes de toutes formes apparaissent – comme la marina Baie des Anges, construite dès 1969, près d'Antibes – qui rassemblent de nombreux logements, ou encore les Maisons d'André Lefèvre au Cap Bénat.
Complexes of all shapes and sizes are appearing – such as the Baie des Anges marina, built in 1969, near Antibes – which brings together a large number of accommodations, or the houses of André Lefèvre in Cap Bénat.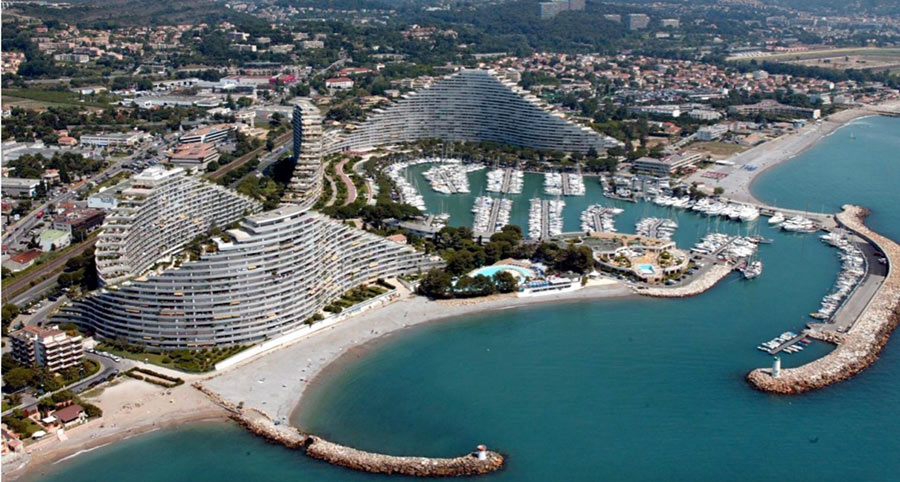 D.R.
Les architectes utopiques sont aussi bien présents !
N'oublions pas les maisons Habitacles d'André Bloc, qui présentent encore une toute nouvelle vision de l'architecture. Le premier Habitacle est construit en 1964… en Espagne !
Utopian architects are also present!
Let's not forget the Habitacles houses by André Bloc, which again present a whole new vision of architecture. The first Habitacle was built in 1964… in Spain!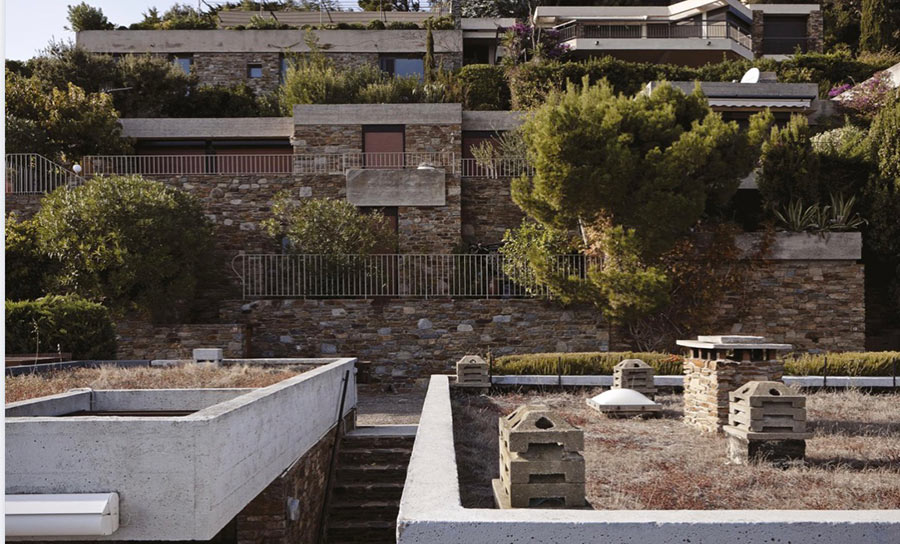 D.R.
Mais très vite, des constructions comme l'incontournable maison bulle de Pierre Cardin, construite en 1975 par Antti Lovag, apportent la possibilité de percevoir différement l'espace de vie.
But very quickly, constructions like the essential bubble house by Pierre Cardin, built in 1975 by Antti Lovag, brought the possibility of perceiving the living space differently.

D.R.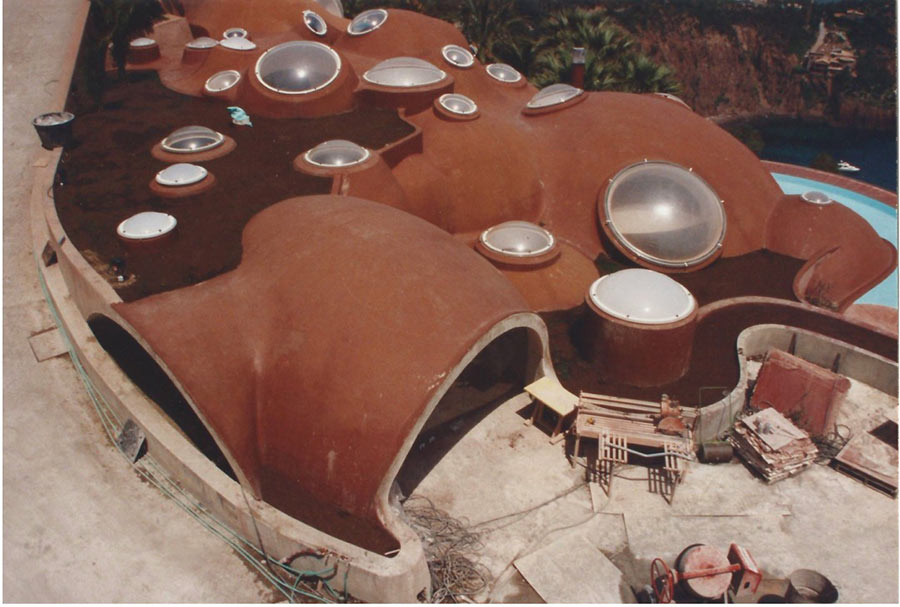 D.R.

Bonnes vacances !
Have a great summer!