While books, albums, catalogs … keep disappearing further and further from our modern interiors, designers have never ceased to design bookcases for their home!
From the simple concept of superimposed shelfs for storing books, the bookcase appears above all in the Middle Ages, mainly in the monasteries, where parchments copying the scriptures were stored! From this essential place, the bookcase was designed, in different forms, which was used to classify these writings. During the Renaissance, the bookcase presented rare, collectable objects, thus becoming the Cabinet of curiosities. The place is very special so the furniture becomes refined and must be beautiful. This tradition evolves and continues for four centuries until the 20th century where, in each decade and according to the countries, styles, eras, this furniture occupies an important place in daily space; it becomes sculptural!
.. So let's go through eras and styles in order to know if we should continue to love bookcases!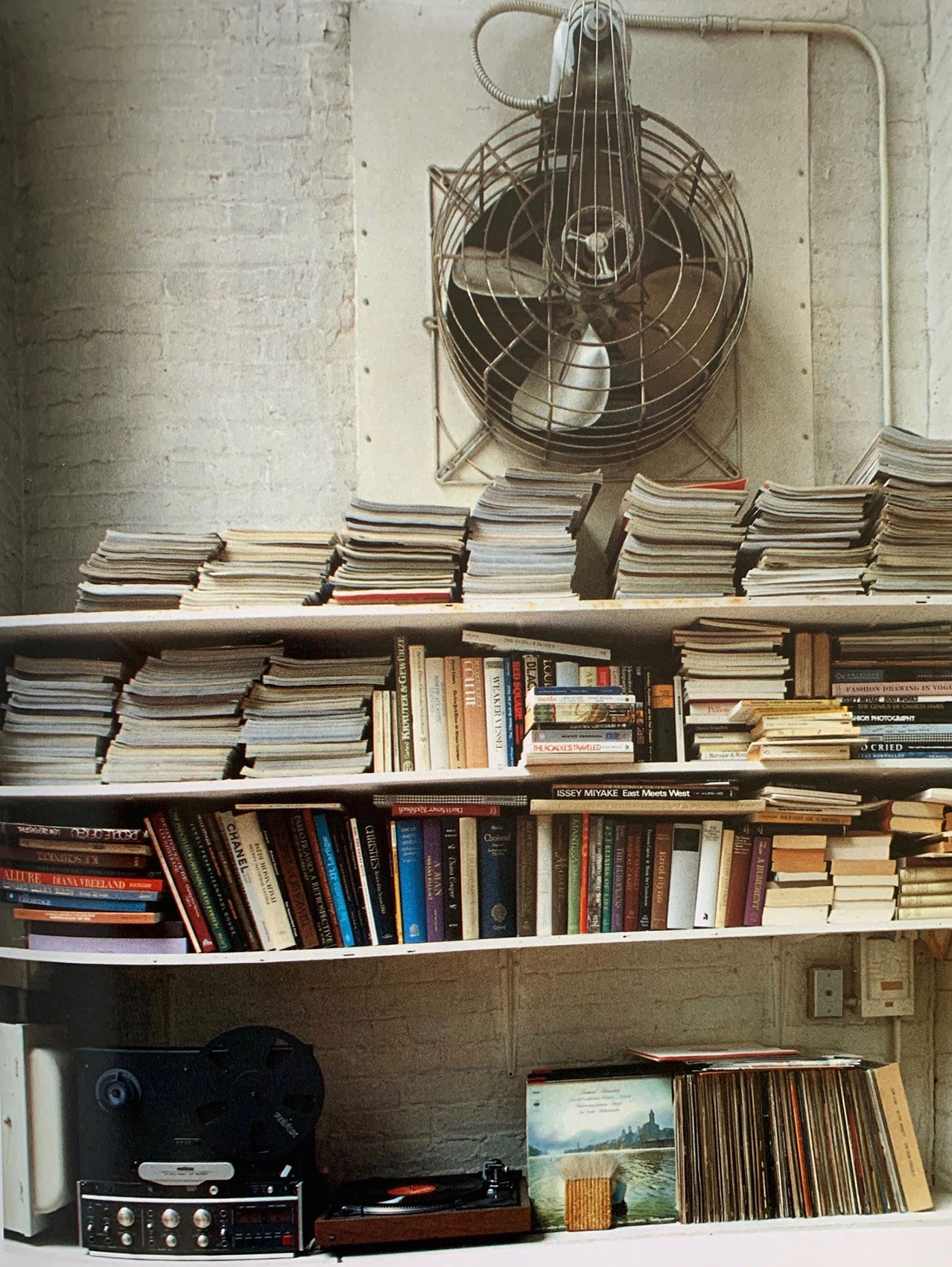 From the origin of men, It seems that the question of libraries quickly arose!!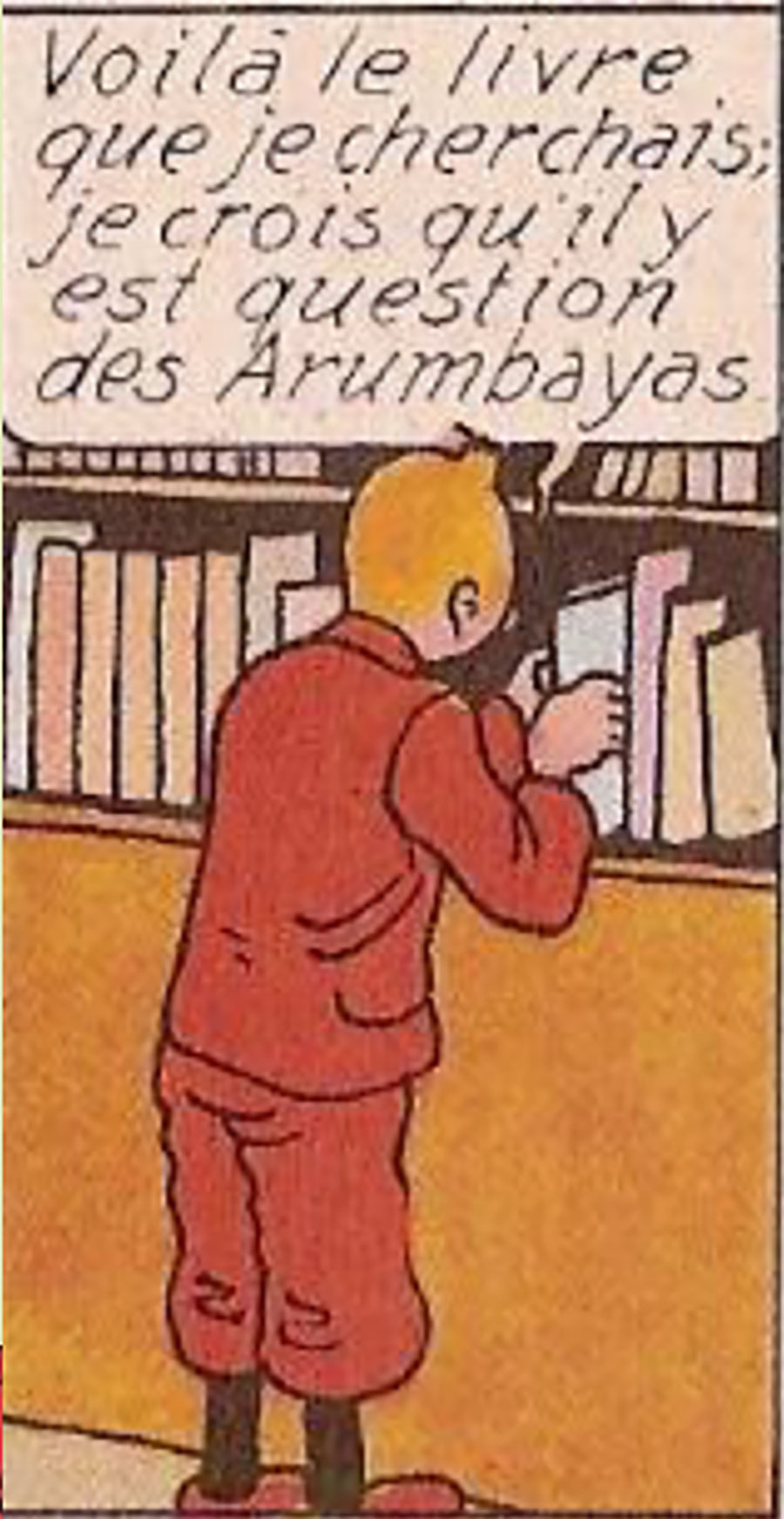 But libraries are above all for storing books !!
1. What space, at home, in the office should it occupy?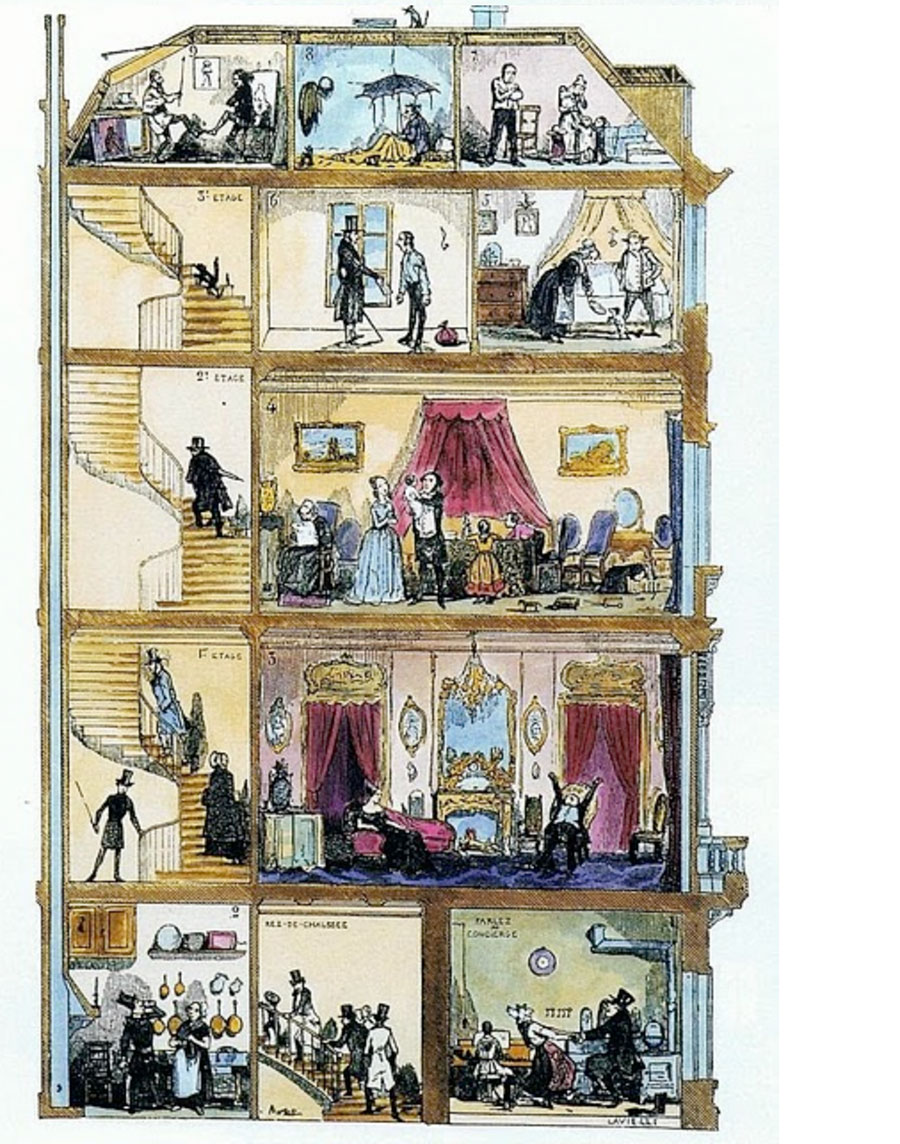 .. Where to place the bookcase at home? A question that turns out to be essential from the 19th century, when publishing is in full swing. However, the library does not yet occupy a large space, or even is almost nonexistent.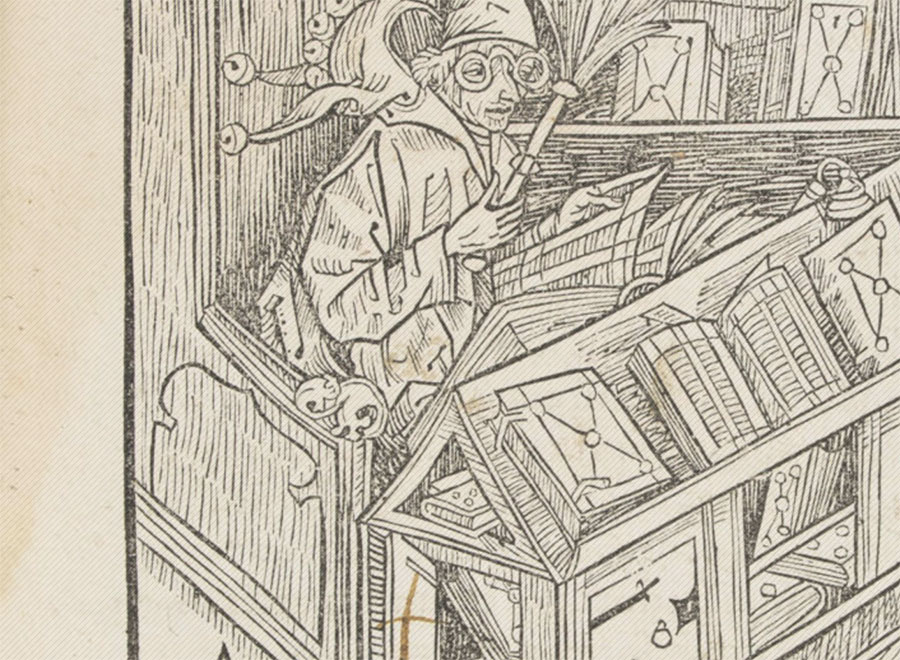 In the Middle Ages, the books only concern a small circle of intellectuals, so the bookcase occupies only a small amount of space! In the monasteries where the monks take care of the transcription of old writings on new parchments, the library spaces will develop but in a simplified aesthetic research.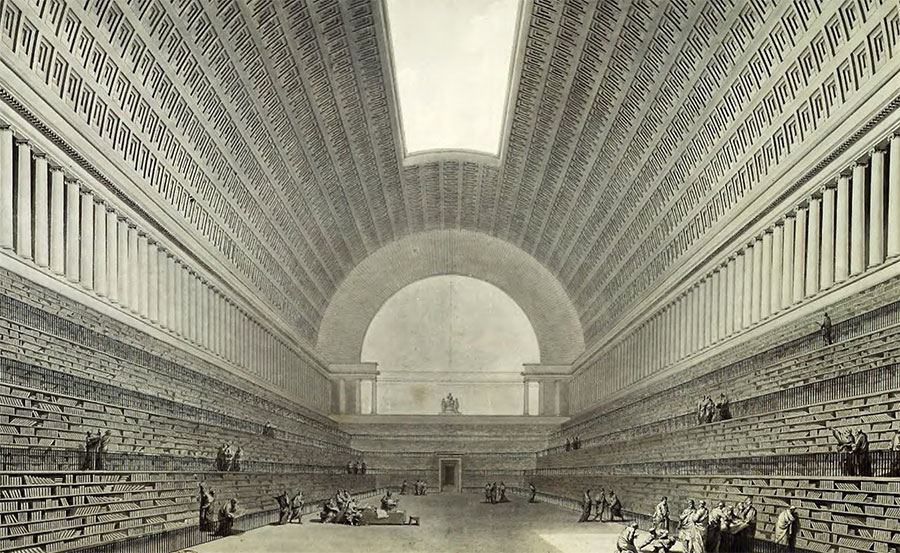 .. Very soon it will change! From confined space, we will move on to new projects, sometimes pharaonic architectures like this one designed in the style of Ledoux. The libraries become temples of intellectualism, of Thought, Art and Science. Furniture must therefore be linked to architecture!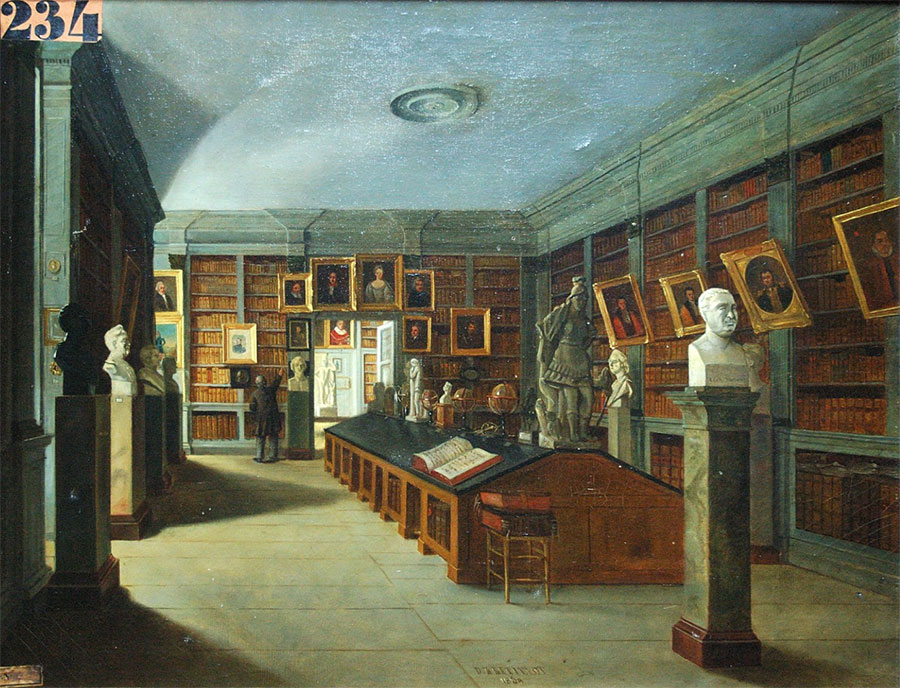 In the 19th century, the library became a place of intellectual refinement that gathered other treasures! It is therefore a large piece of furniture with more or less decorated woodwork.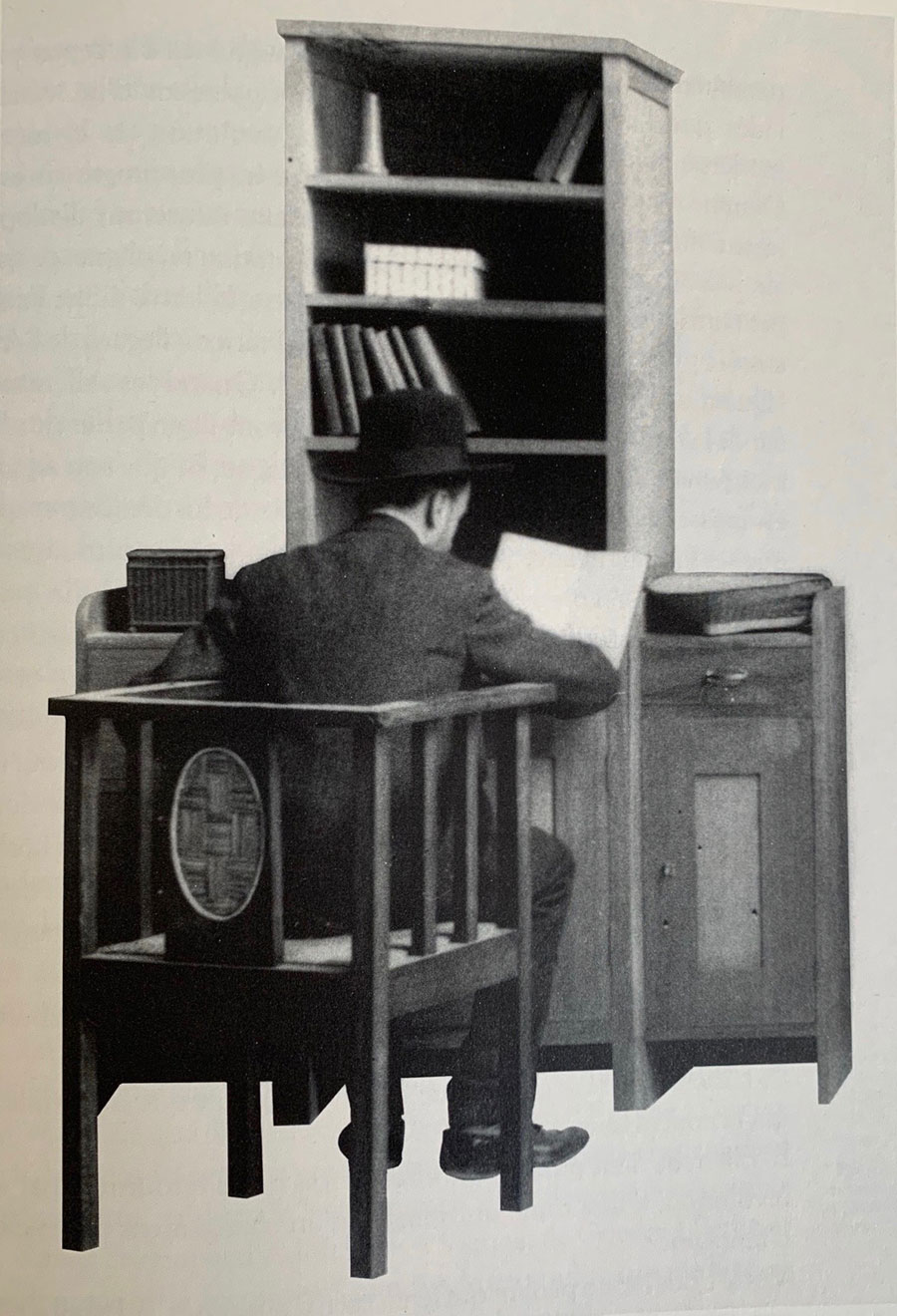 Before the First World War, certain architects and interior decorators like Francis Jourdain thought about a piece of furniture with multiple uses, to make up for the lack of space in small living spaces. He will talk later about this change which he designs in "a purification, in a revision of the forms, in their strict adaptation to function".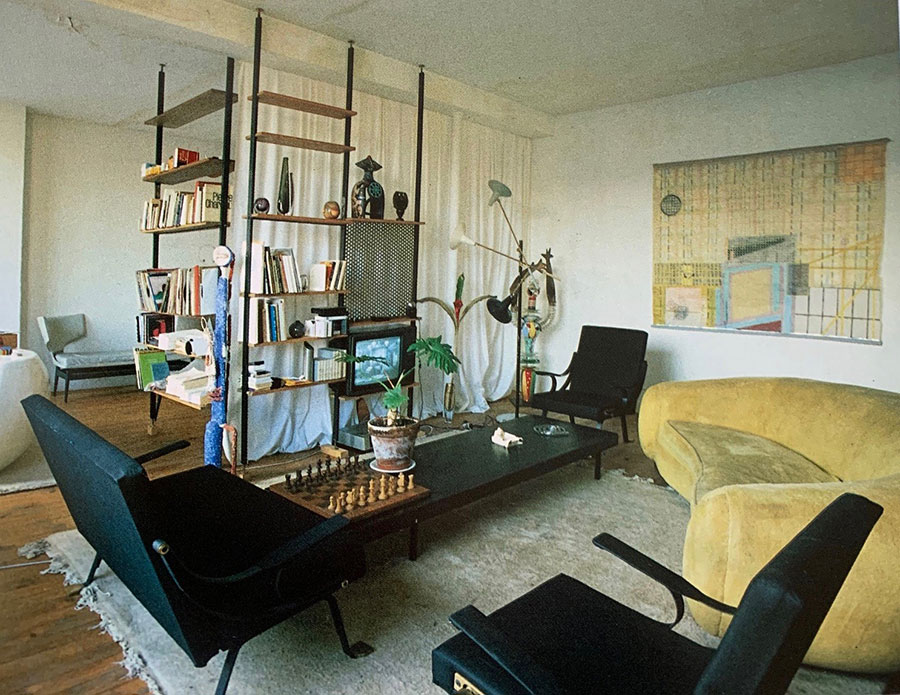 In some interior spaces, the library is reflected by some designers as a simple form, a minimal piece of furniture that occupies very little space.. 😉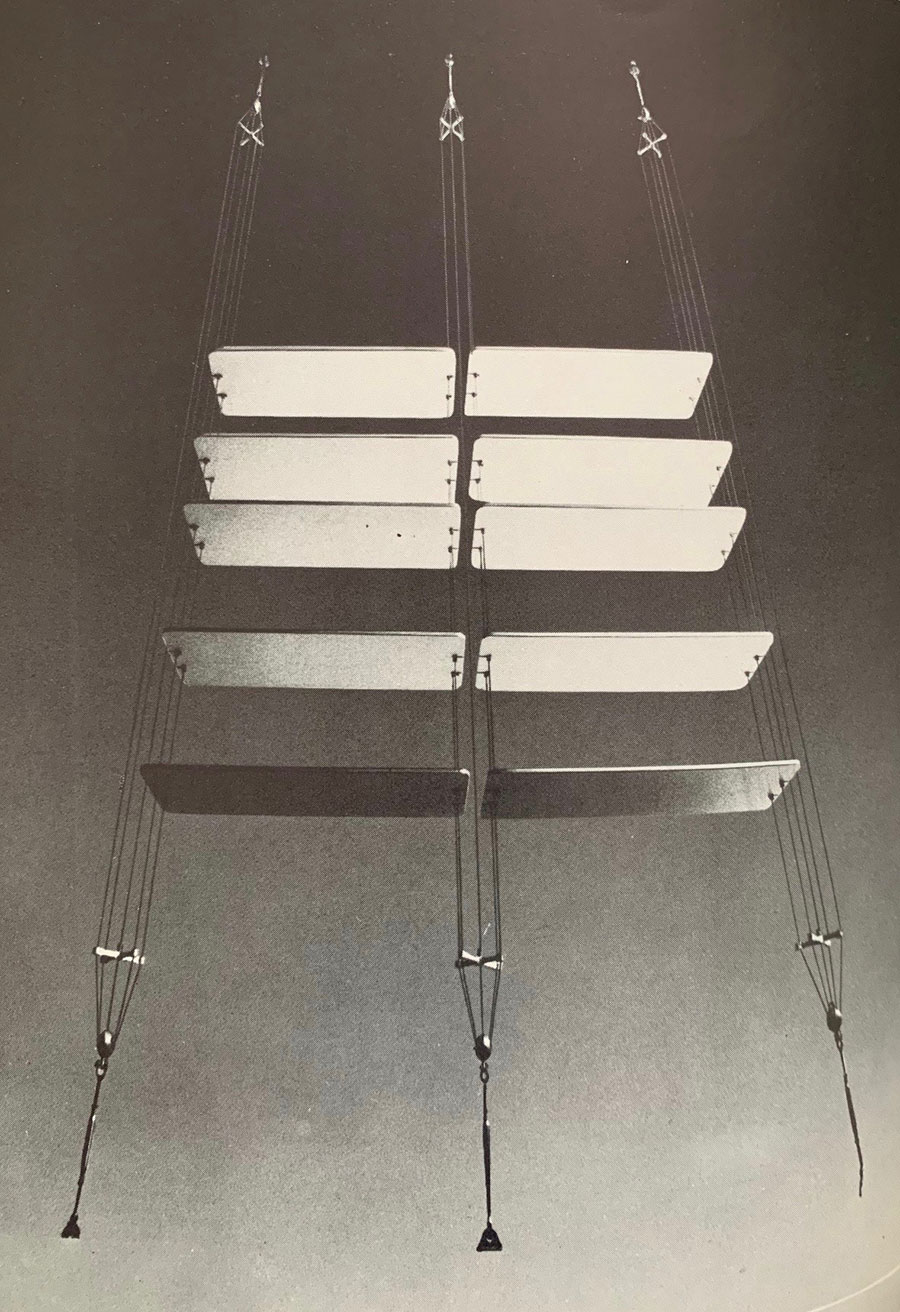 Marc Held, who seeks lightness, created in 1962 a piece of furniture which suspended in space, in its greatest simplicity. It can therefore be easily placed in different places!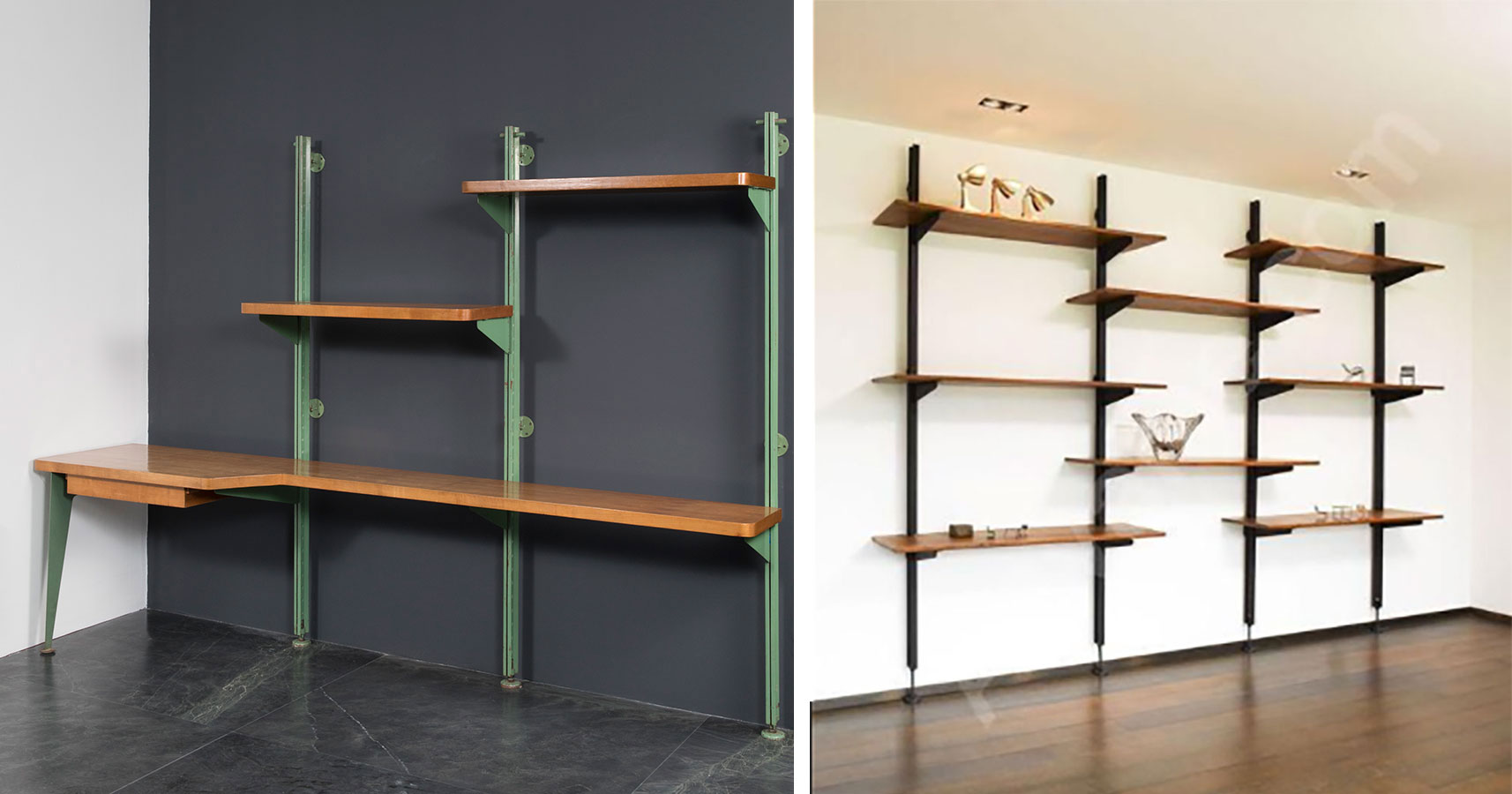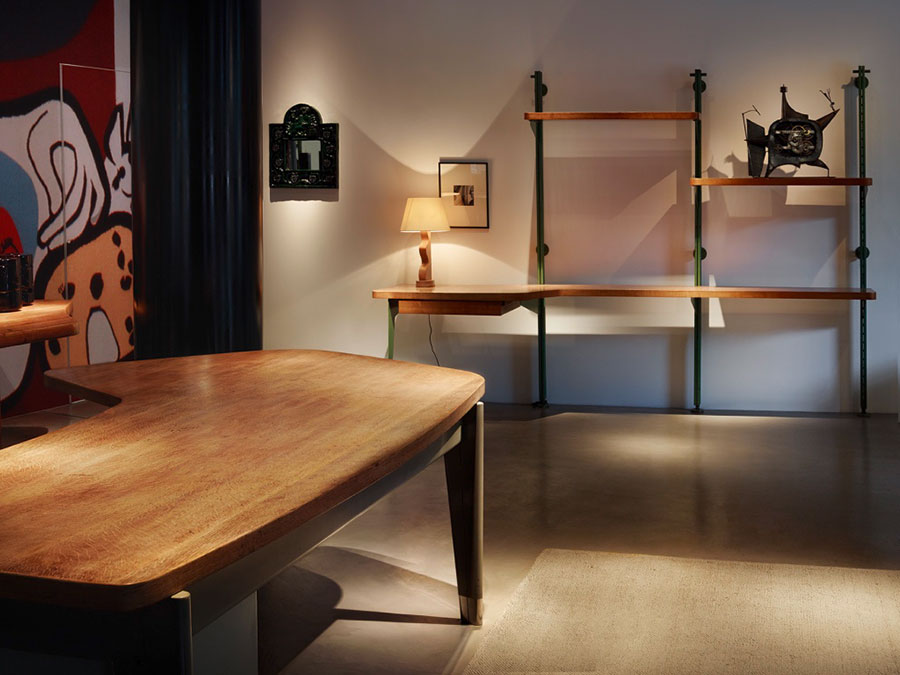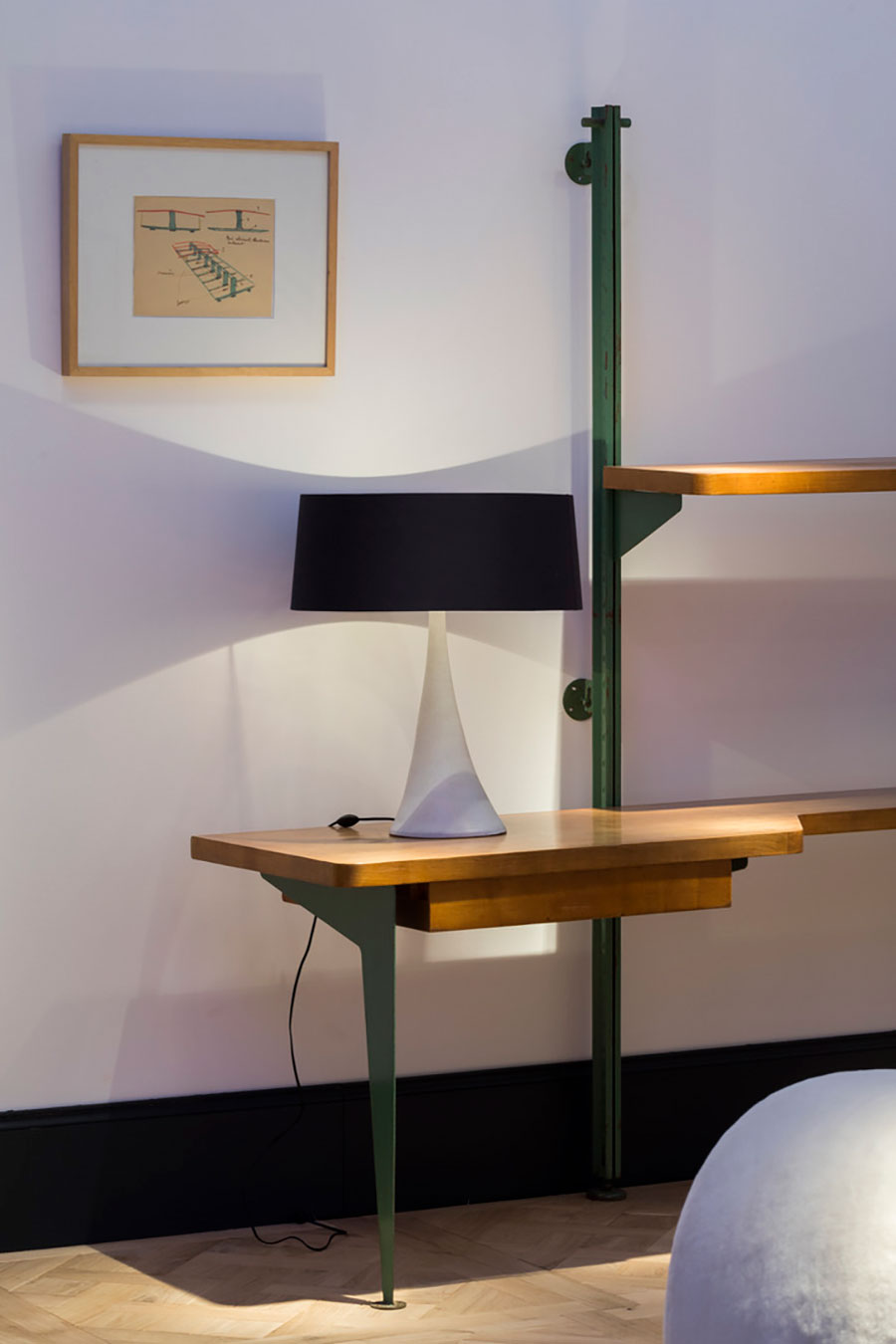 In different form and just after the war, Jean Prouvé also designed very minimal bookcases which added to its original storage function a practical one by integrating the desk. The bookcase can therefore be in an office space, as well as a space at home!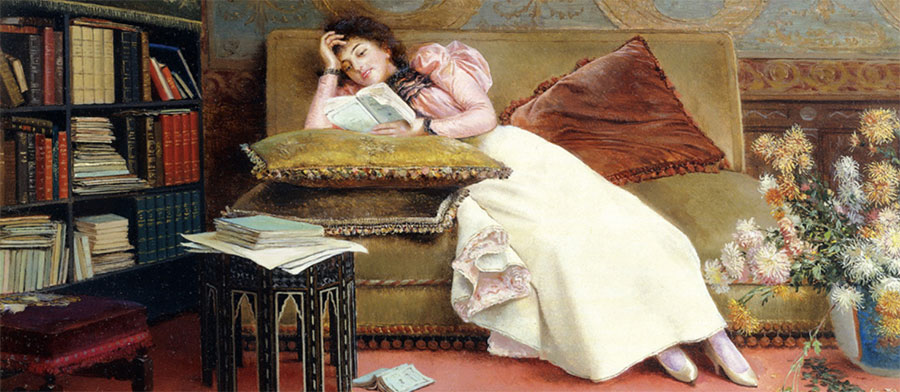 Let's not forget that at home, the library is also and often a place to rest: reading books, looking at catalogs: relaxing !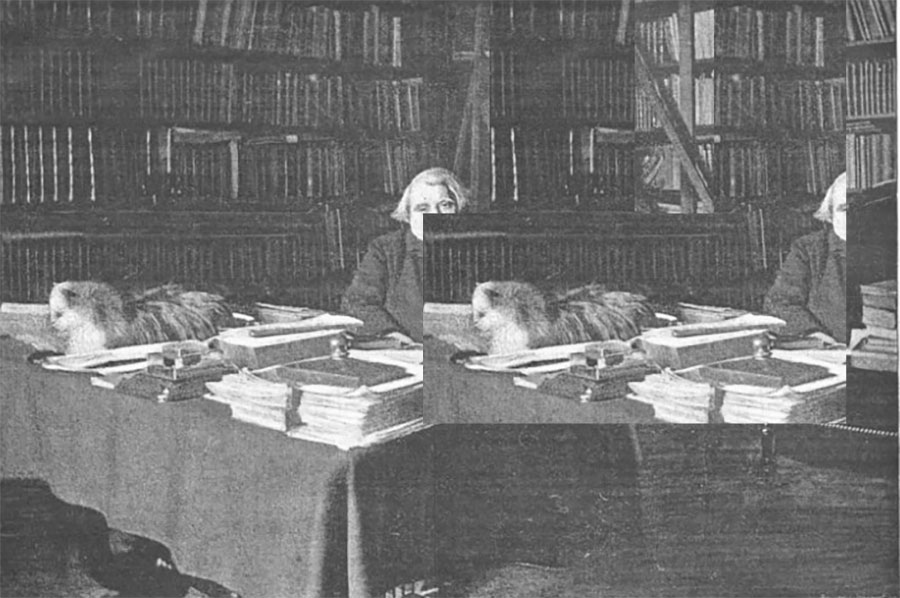 For others, the bookcase is a social, intellectual framework that ends up becoming almost an integral part of whoever uses it. This was the case with Ernest Renan in the 19th century.
2. What forms do designers think of?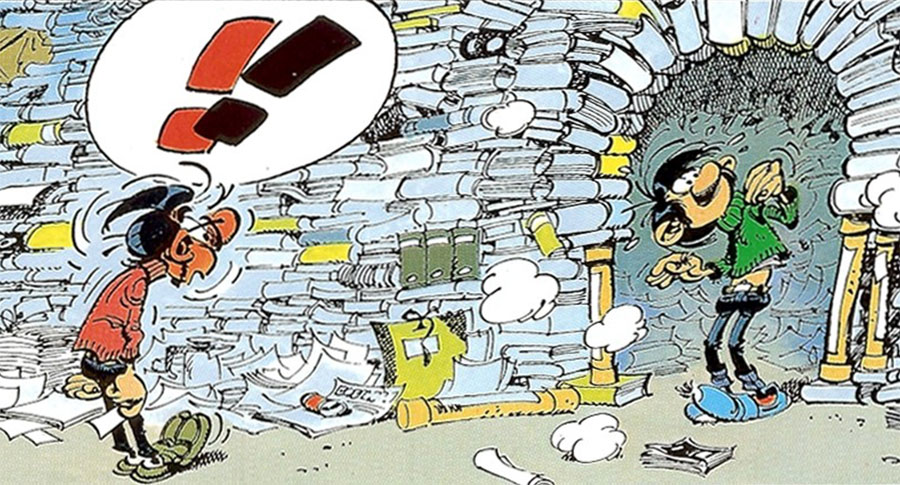 It's about adapting to the space, while remaining very creative!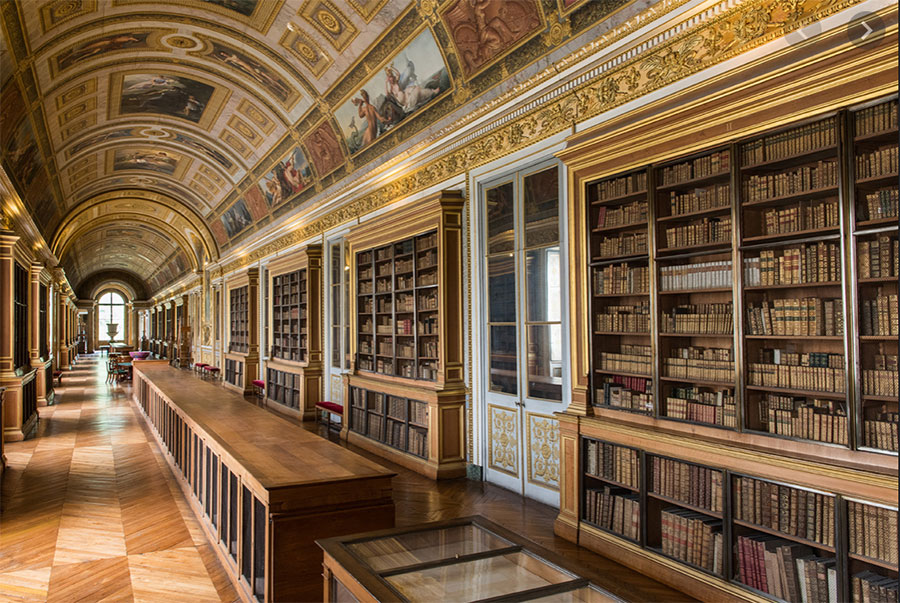 From the renaissance to the end of the Third Republic, the library remains fairly classic and, in some places, it is sometimes miles of shelving that bring all of these writings together!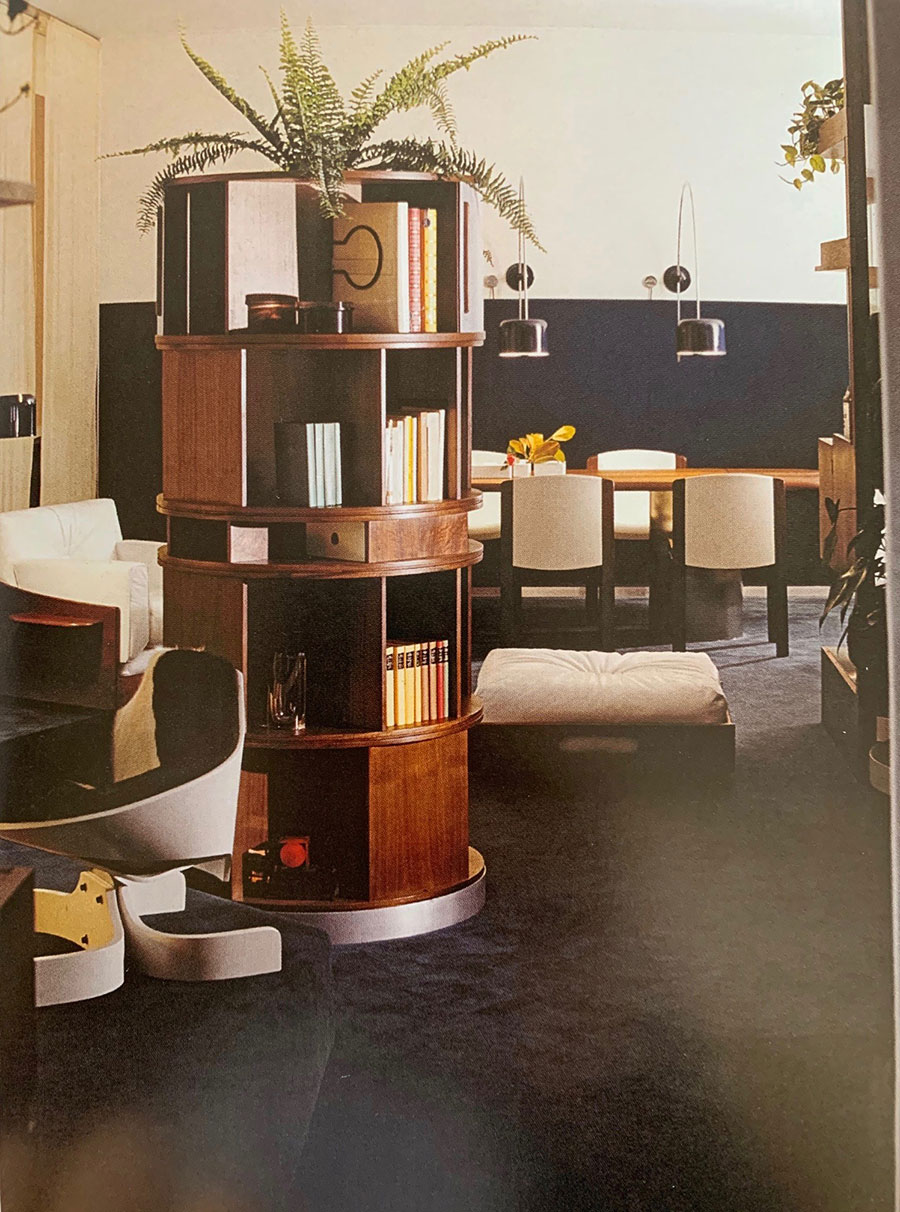 But with the evolutions of the XXth century, everything changes! Some bookcases are now round and sober. Joe Colombo wanted the bookcase to be an aesthetic and modular element that can be positioned and moved, in different places, in the interior space.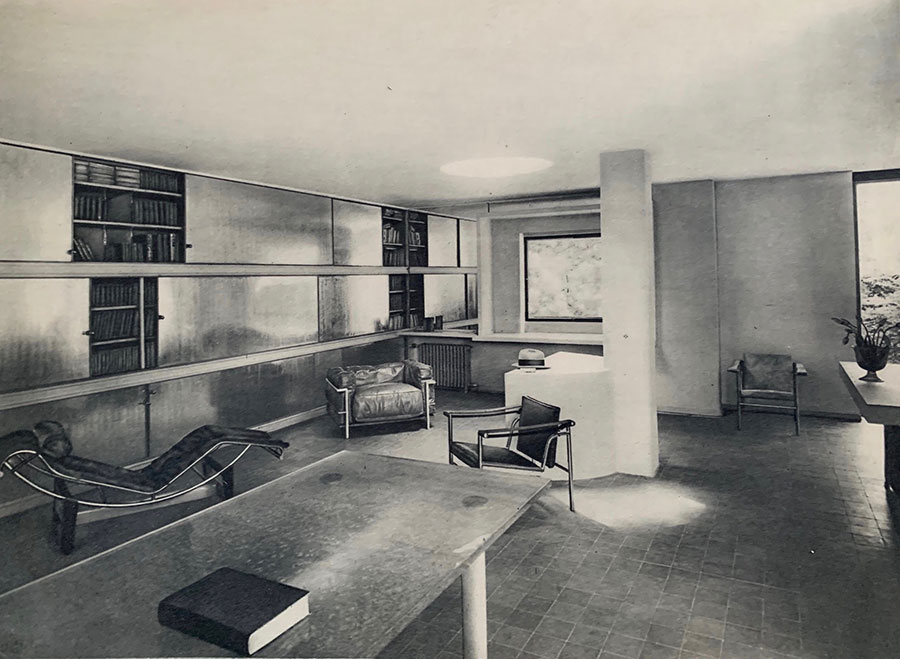 For others, they are minimal and modernist. Le Corbusier's Esprit Nouveau integrated this piece of furniture hidden in a very sober architectural space. The library is therefore the continuation of the architecture of the place!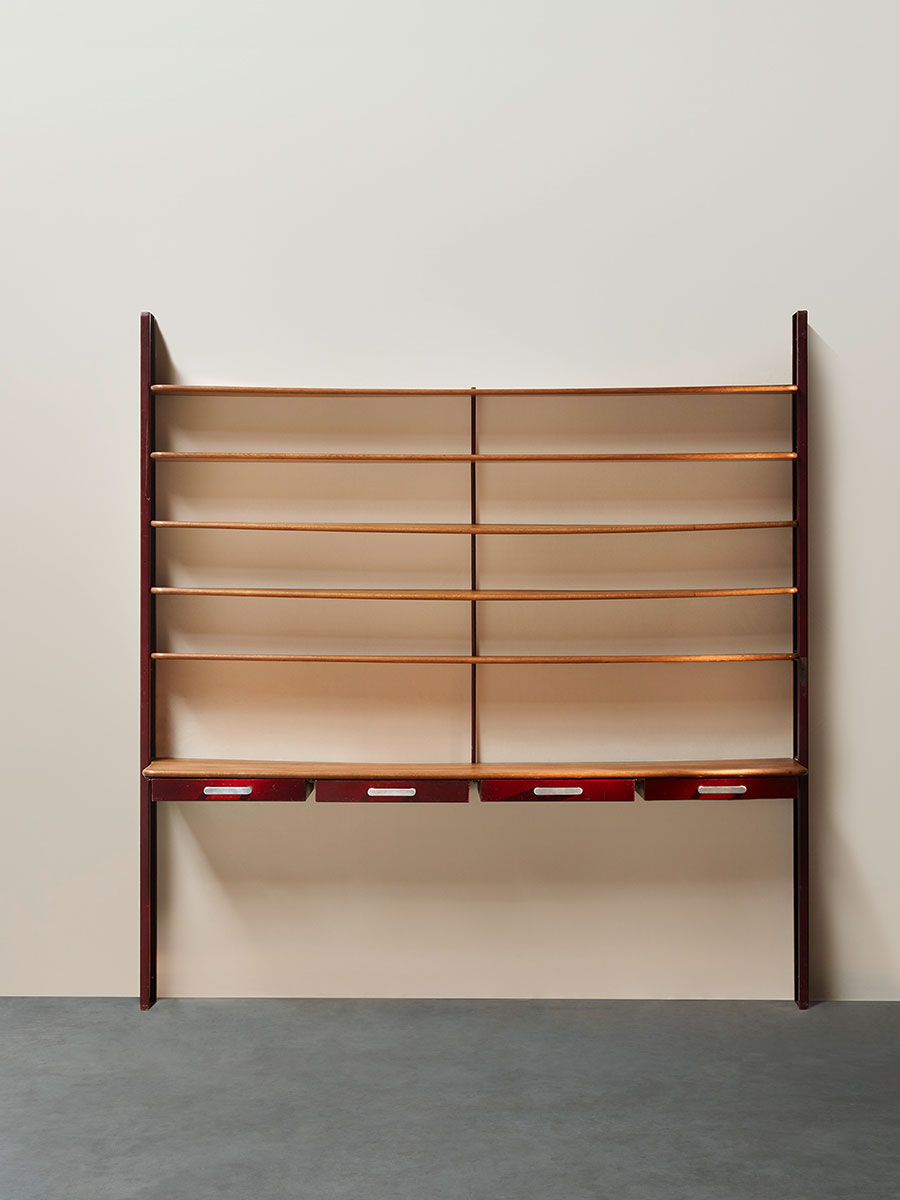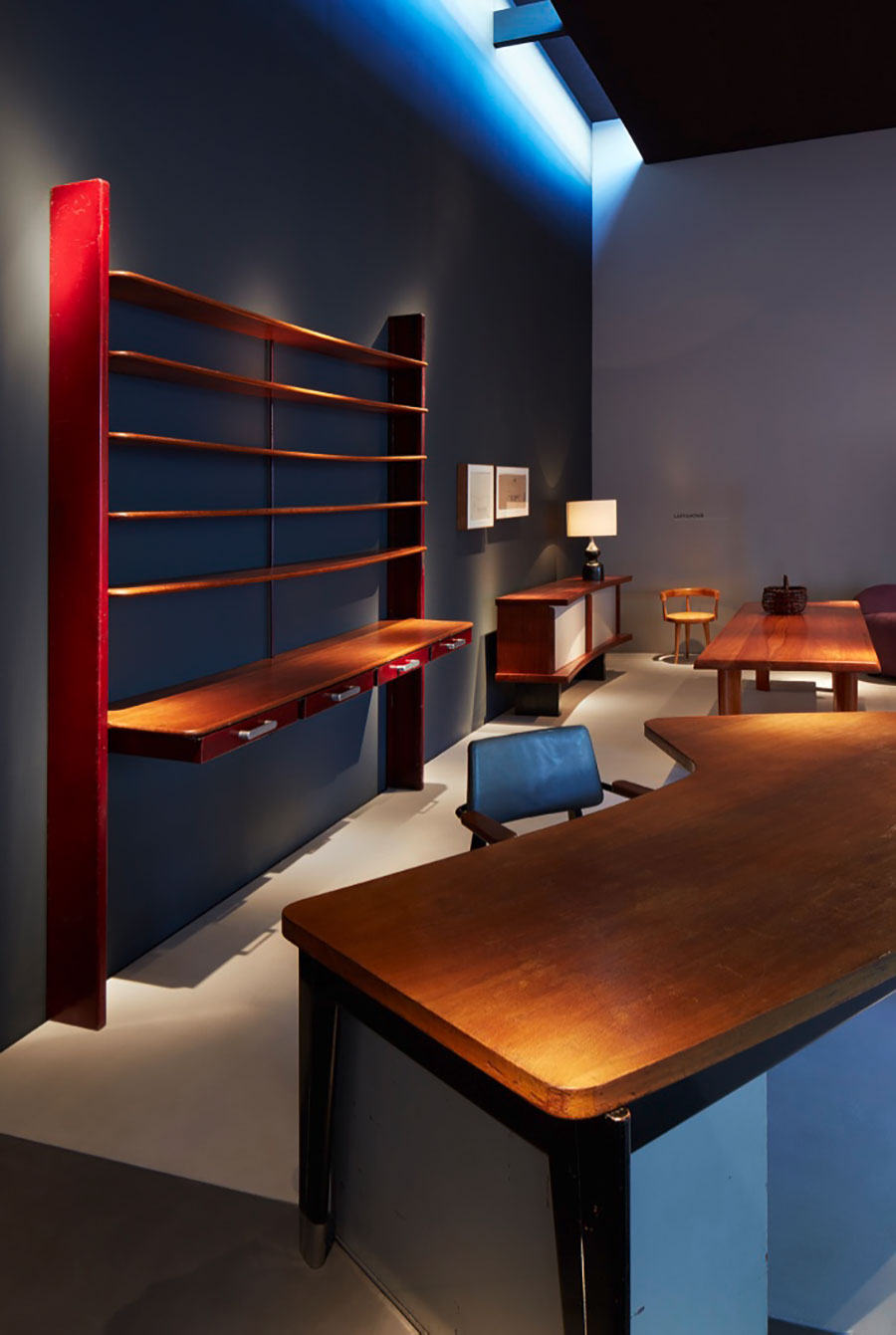 .. But also Jean Prouvé, at the same period, who is a very young constructor who has just created his Ateliers in Nancy. Member of the UAM (Union of Modern Artists) since the early 1930s, he designed some pieces of furniture with a very simplified geometry, without looking for interior design. Its primary purpose is to create standardized elements that can be reused and adapted to different projects. This is the case for these drawers, which we will find a few years later on the desks of the student rooms at the Cité universitaire de Nancy!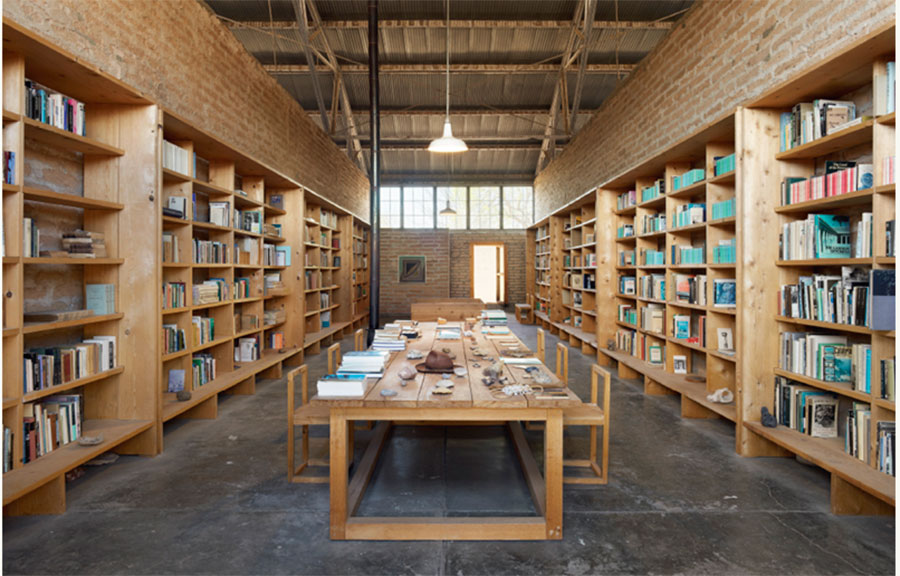 They can also be « theoretical »! Indeed, the libraries created by Donald Judd for the Marfa Foundation in Texas are designed as real sculptures that transform space, by its simple and minimal form.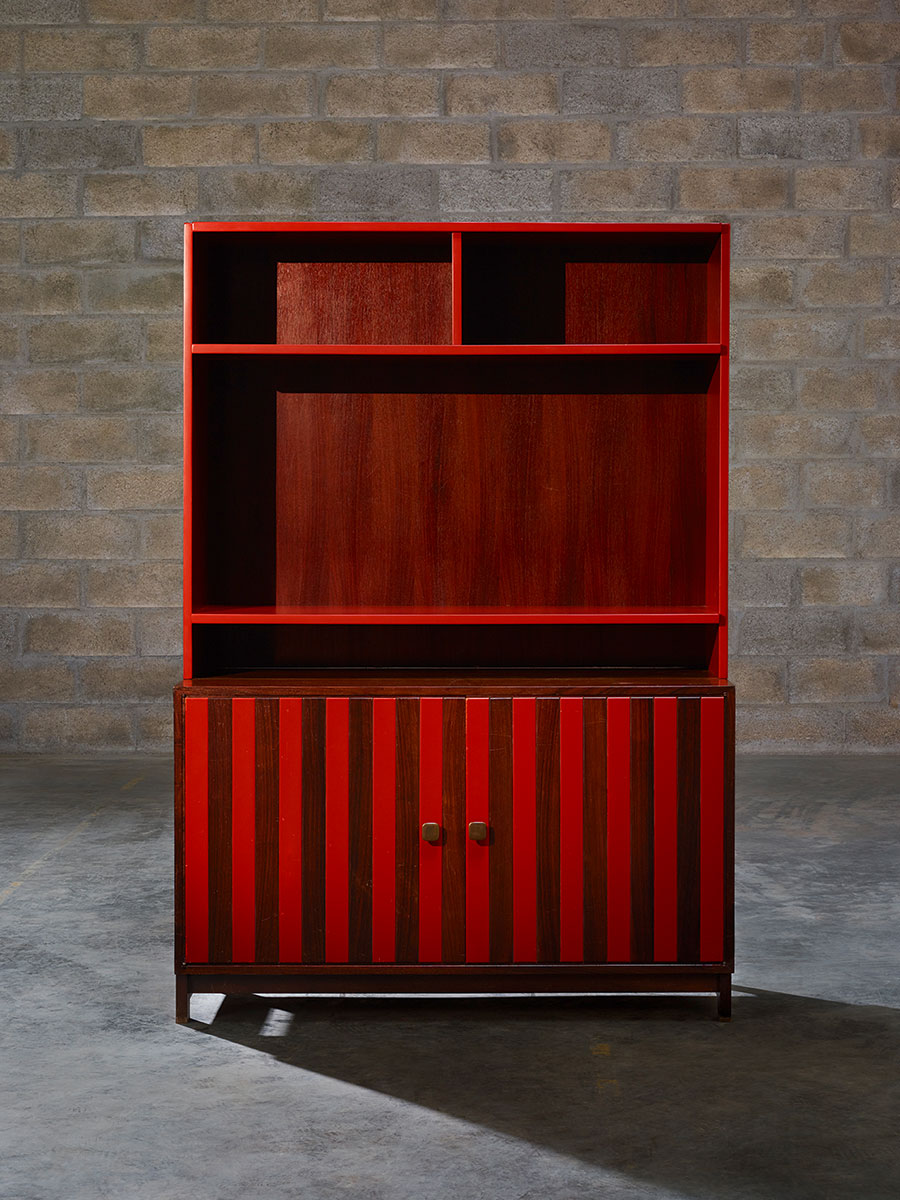 For others, they are rectangular and colorful! Ettore Sottsass created in the mid-60s, his first colored furniture produced by Poltronova who quickly understood this new line of contemporary design at the time !!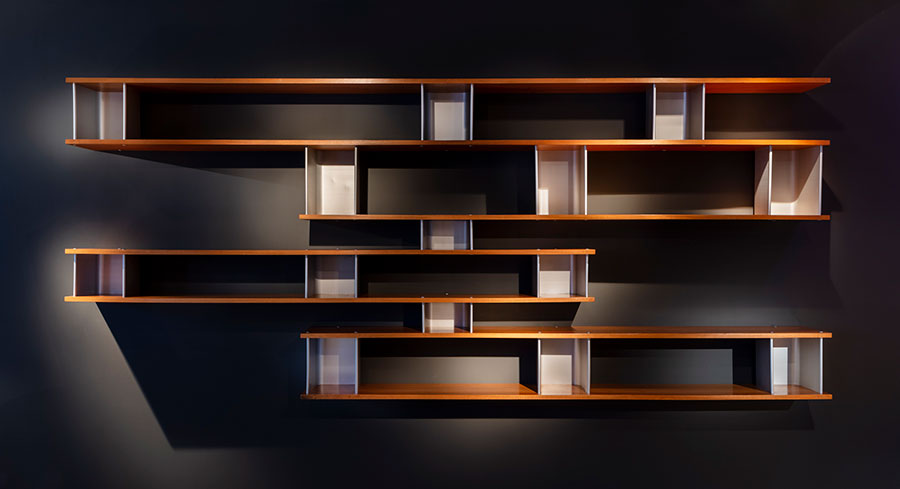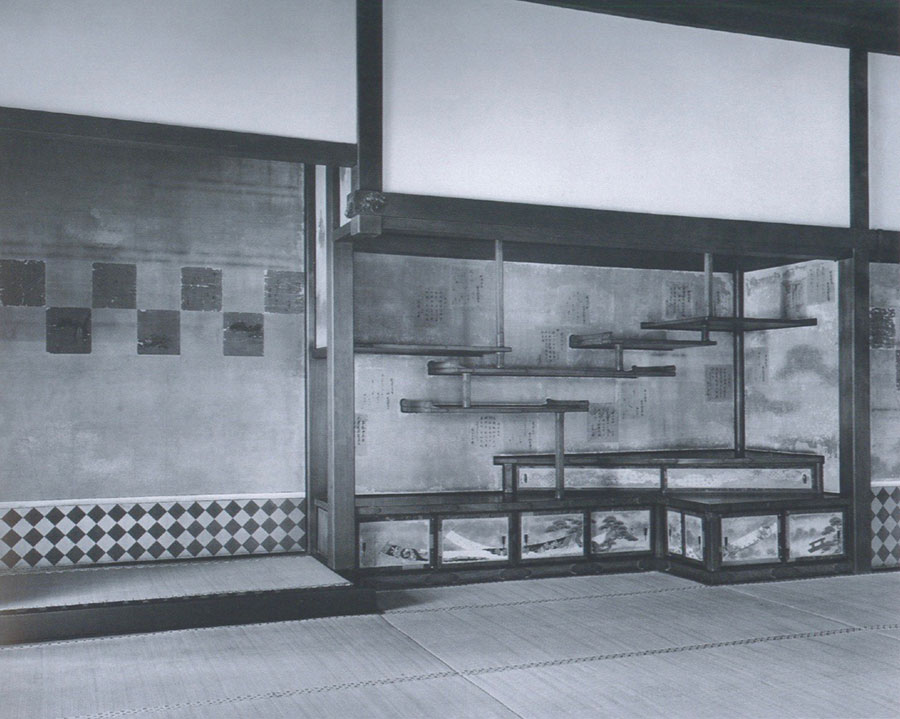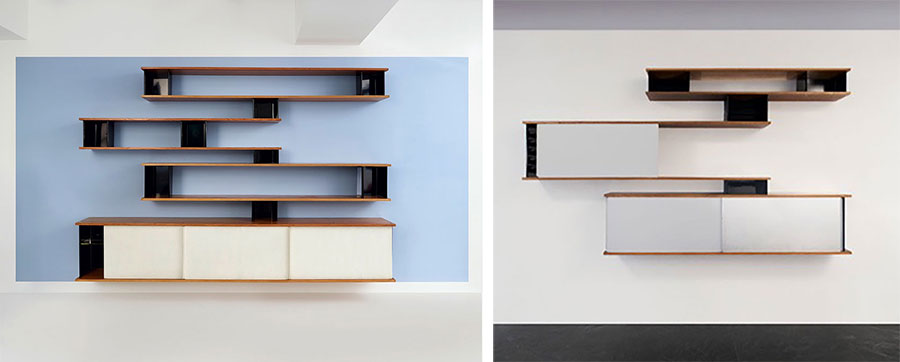 But they can also be rectangular and offset, It's the aesthetic invention of Charlotte Perriand who in the 1950s designed her 'Nuage' bookcases, derived from traditional Japanese bookcases! Charlotte Perriand draws, among other things, her aesthetic research from Japanese minimalism of the 17th century.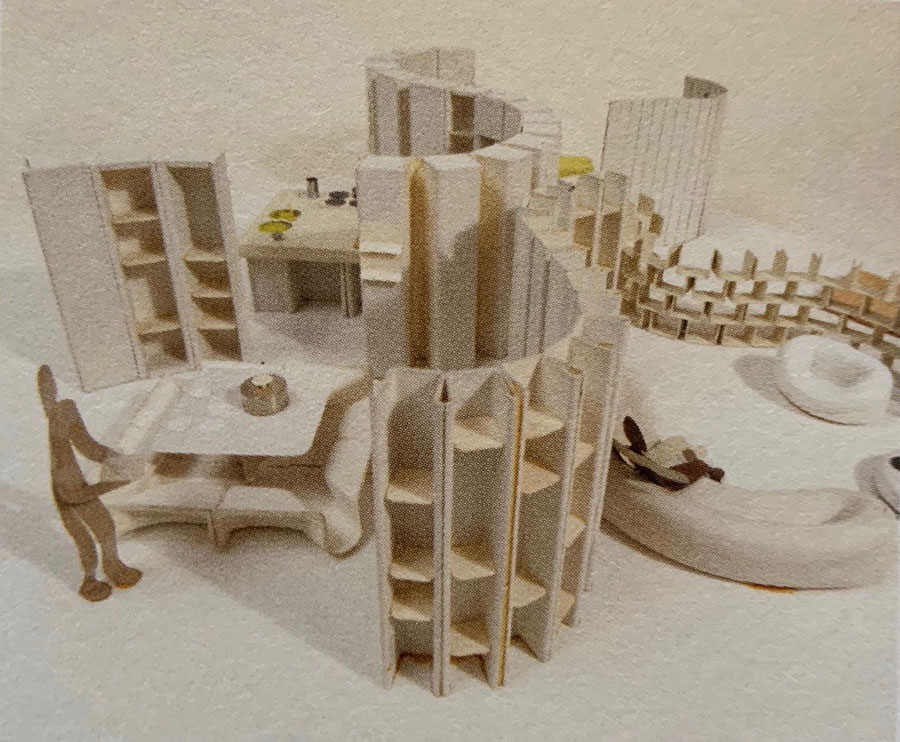 For others, finally, they are infinite curves! In the course of the 1960s, Pierre Paulin designed this project – which will remain at the prototype stage – for Herman Miller. The library determines the interior lines of the place!
3. The bookcases become sometimes a work of art ?
The XXth century, through all these eras, is rich in furniture creation so the designers will integrate a part of creative inventiveness to this piece of furniture which must above all keep its storage function !!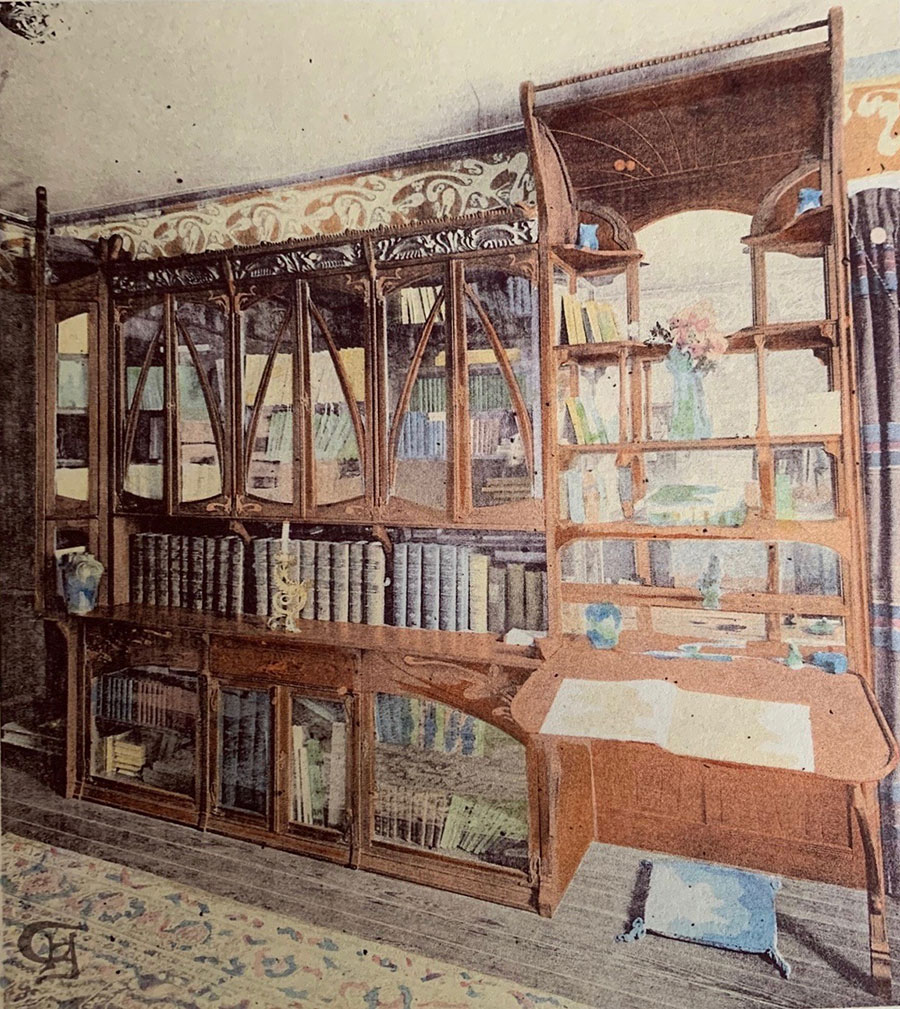 With the discovery of Art style called "Noodle", around 1890, architects like Hector Guimard designed furniture that followed his Art Nouveau architecture!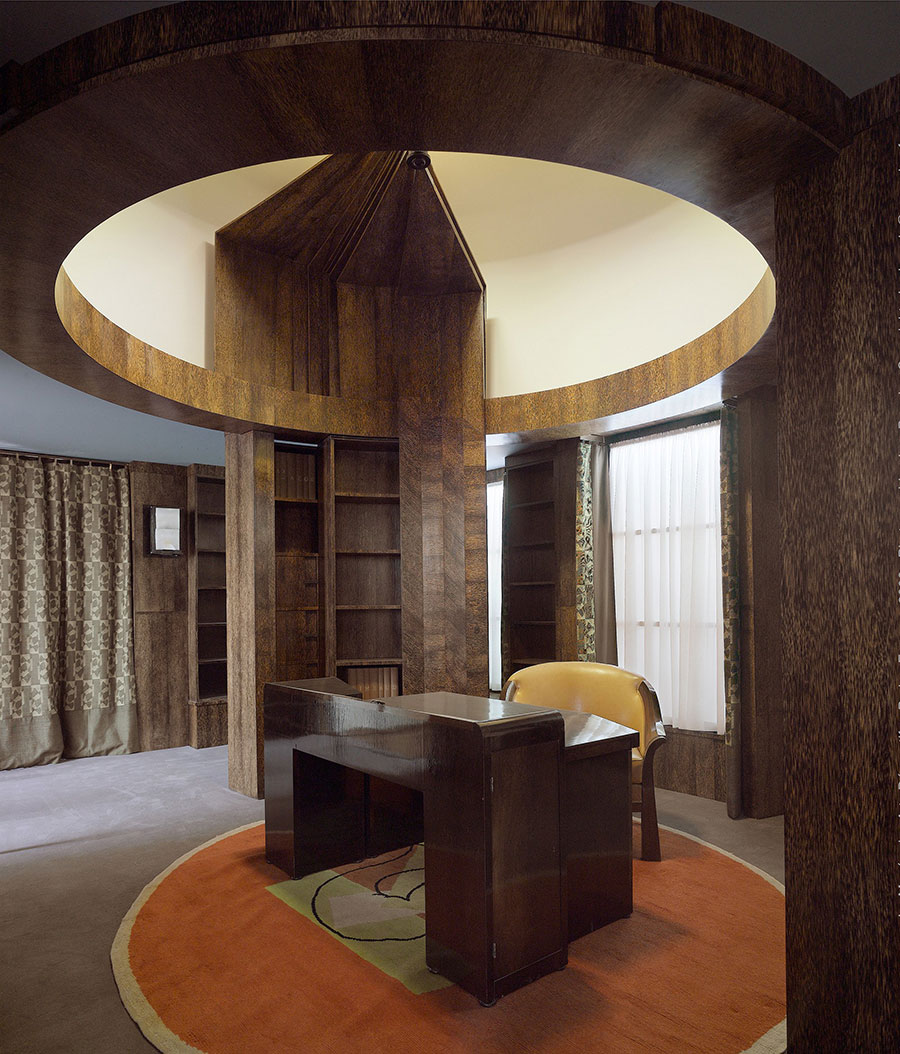 In 1925, sobriety was the rule for interior designers-decorators like Pierre Chareau who gave this library an architectural sense for the lounge of an Ambassador.
In the post-war period, new and varied forms were invented. Some were minimal,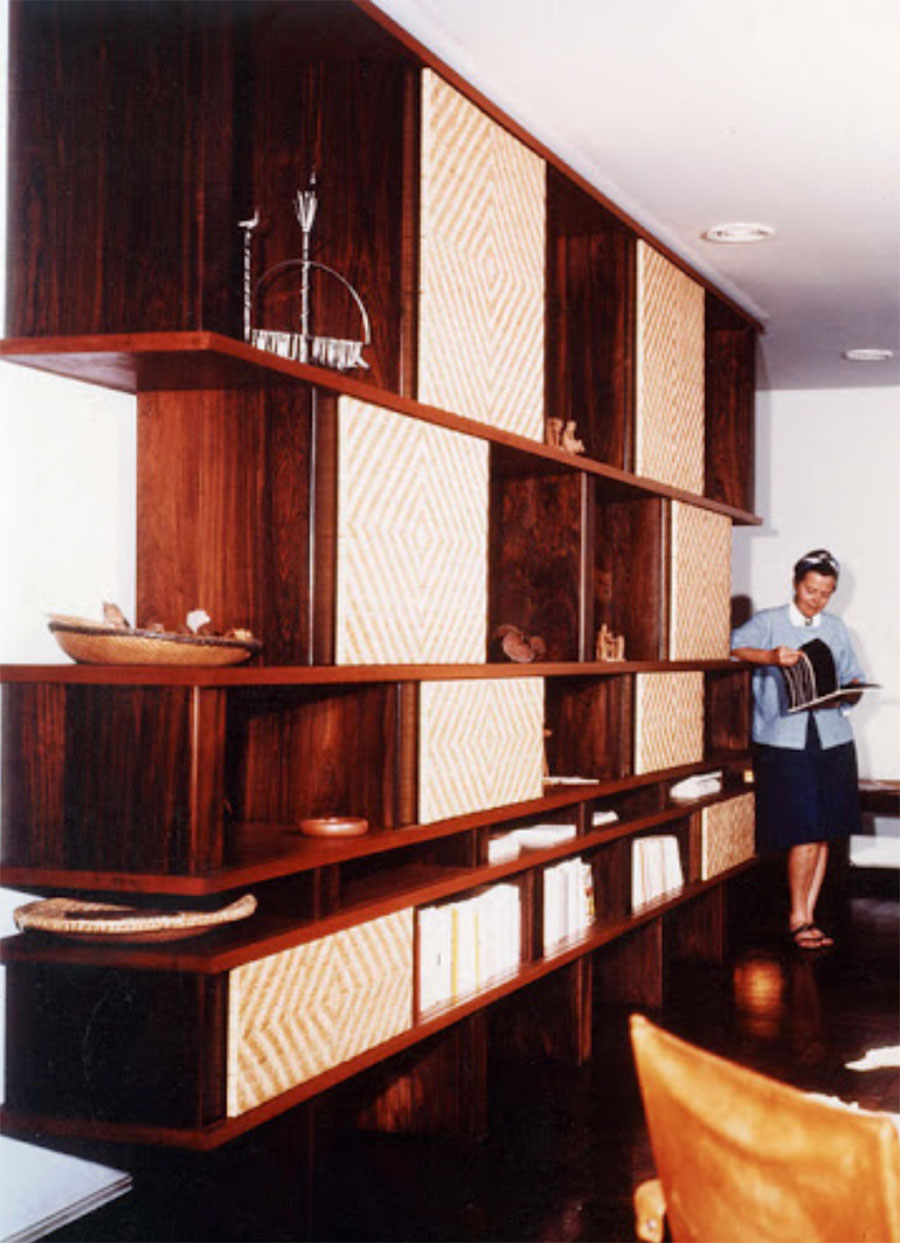 .. Let's start with the very large 'Brazil' bookcase that Charlotte Perriand created specially in jacaranda for her apartment in Rio de Janeiro in 1962: minimal and sober but above all oversized!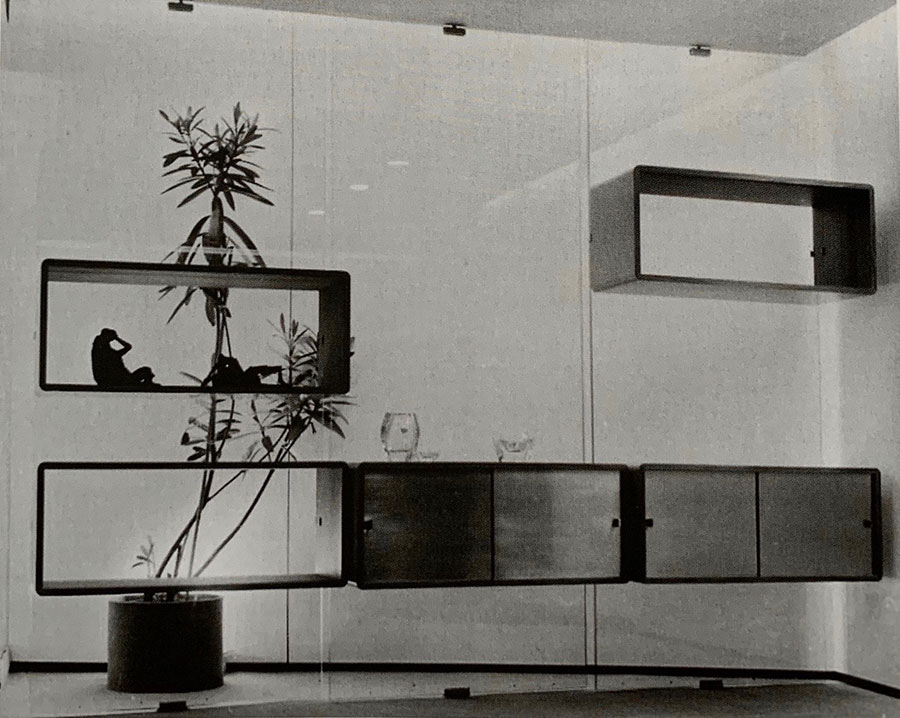 .. Roger Fatus who makes float, in space, his bookcase made up of independent wooden blocks; we can therefore compose its shape!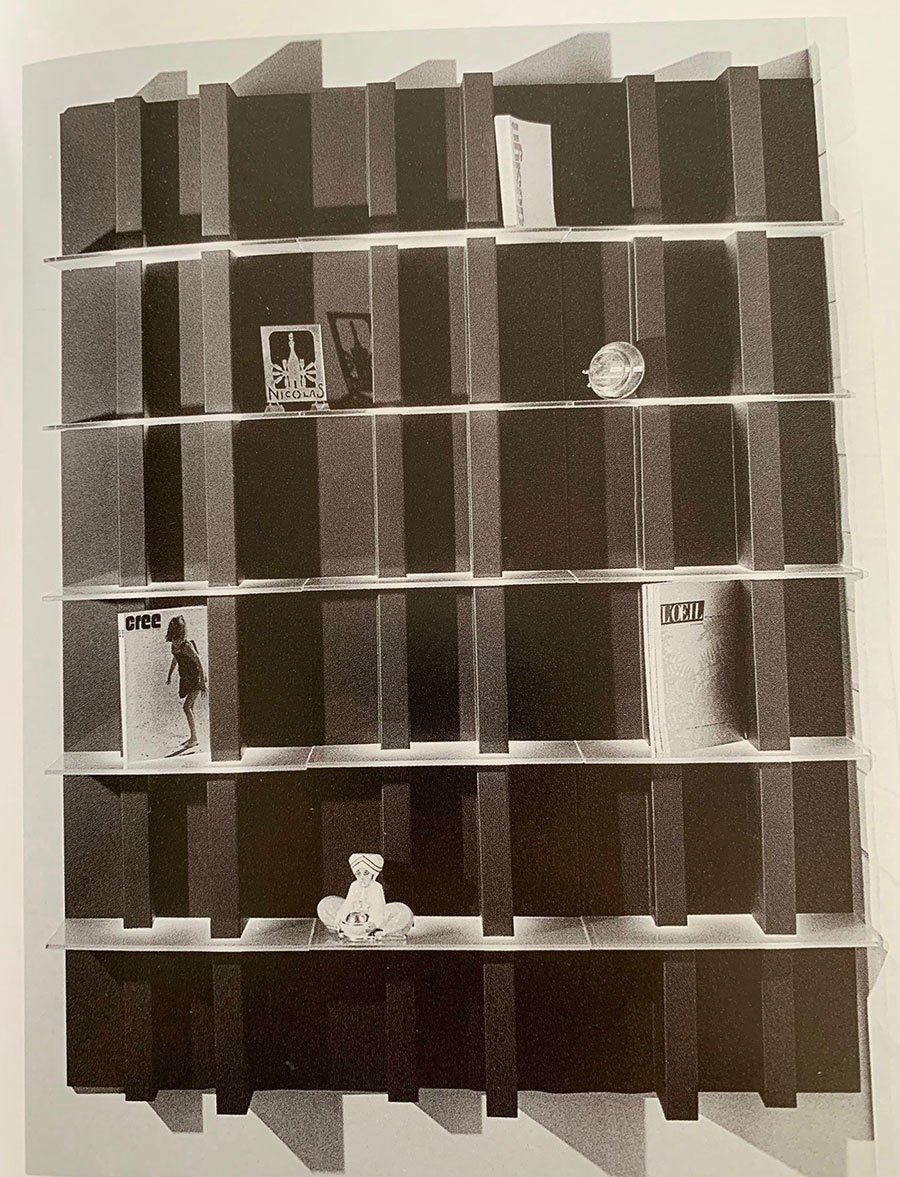 .. Michel Boyer gives it an architectural aspect with its regular lockers which recall the curtain walls of buildings from the 50s and 60s.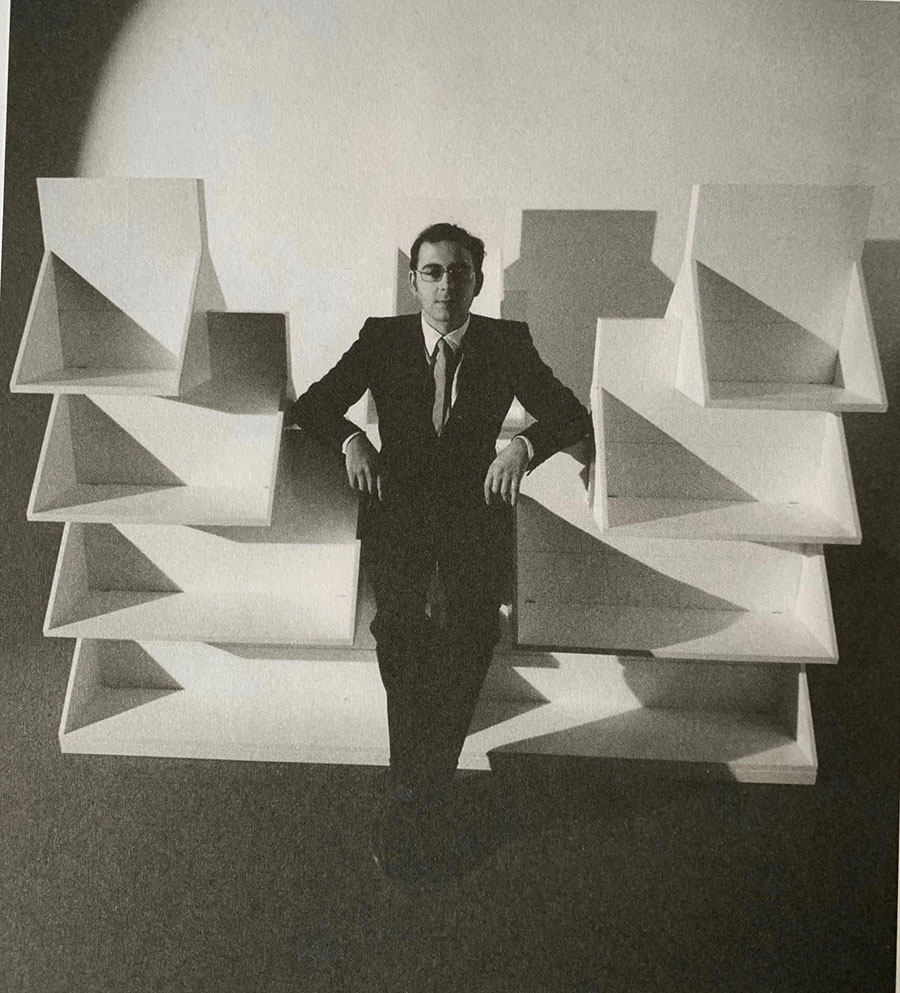 Ugo de La Pietra breaks it down into geometric modules!
Others are mostly colorful,
Ettore Sottsass completely deconstructs the storage unit which takes on multiple functions!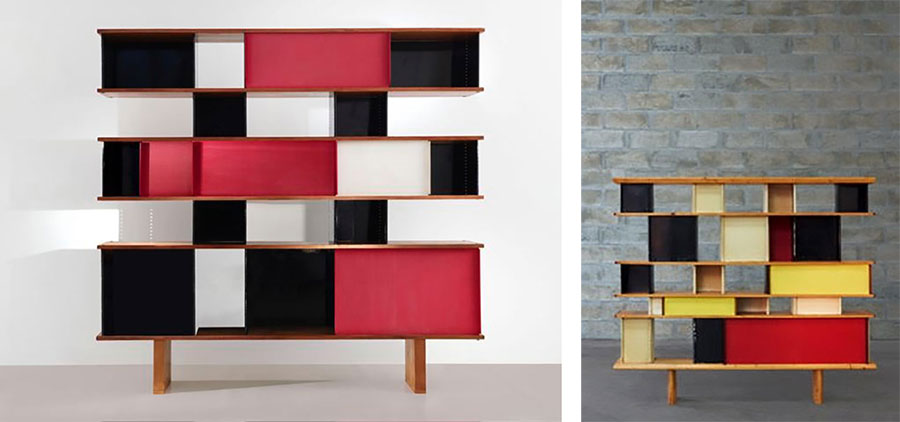 Charlotte Perriand works from standard colors which were used by Le Corbusier in his architecture. We will find his colors among many of his other furniture projects!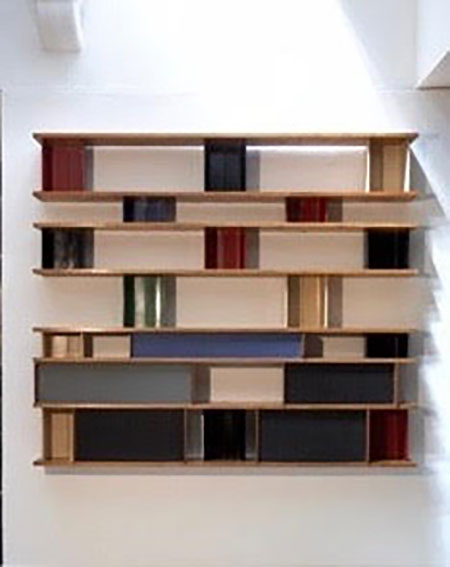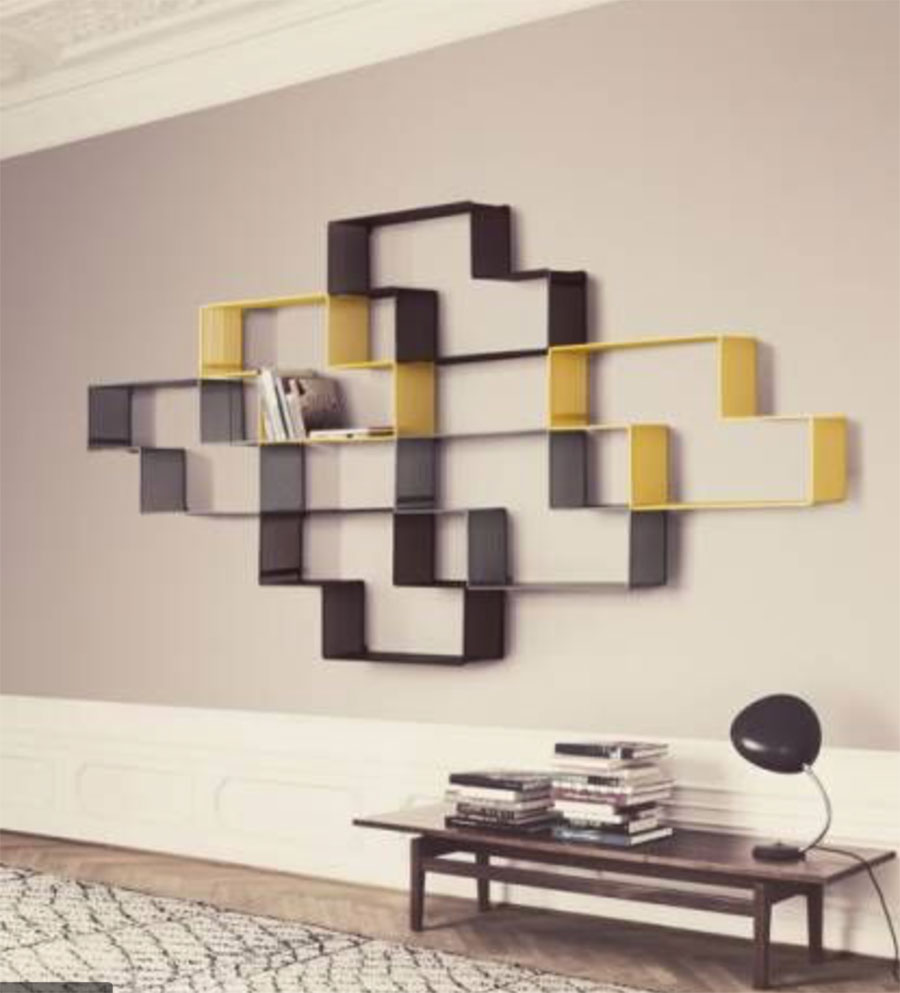 Mathieu Matégot and his 'labyrinths' which are small stylized shelves, made of colors that can create a universe of colors.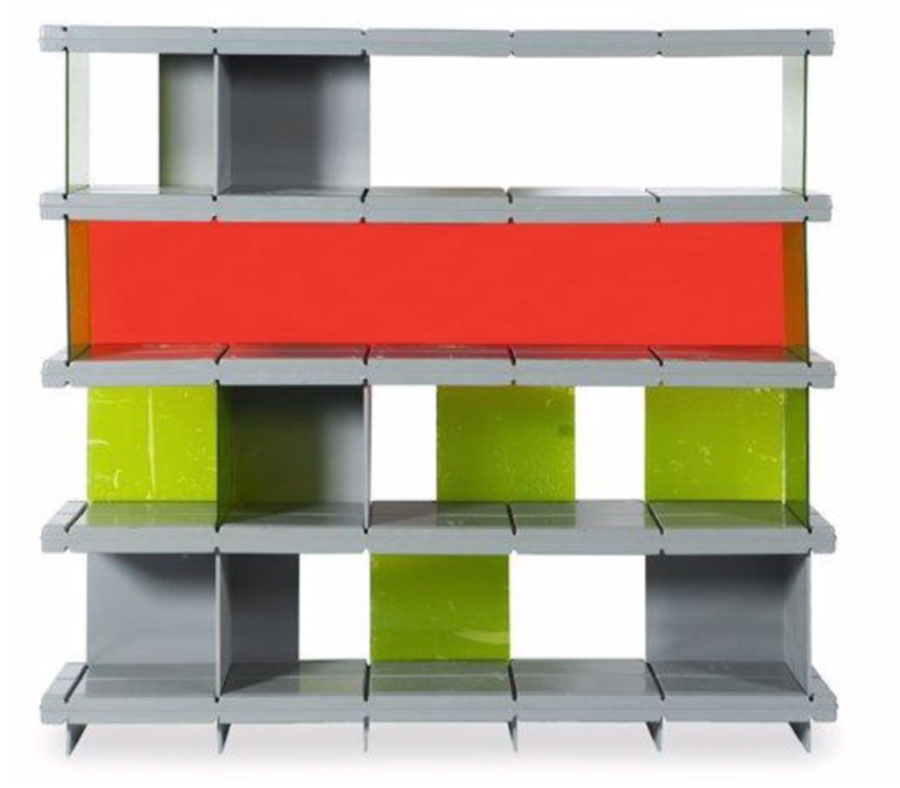 Designers Ronan and Erwan Bouroullec innovate on this bookcase which also becomes a separation unit!
Finally, those last ones, more sculptural become real sculptural furniture…
From the universe of Gaetano Pesce to that of Pucci de Rossi, passing by the wall bookcases of Valentine Schlégel, the radicalism of Martin Székély or even the 'Mortal Coil' of Ron Arad, we are only at the beginning of a long endless list.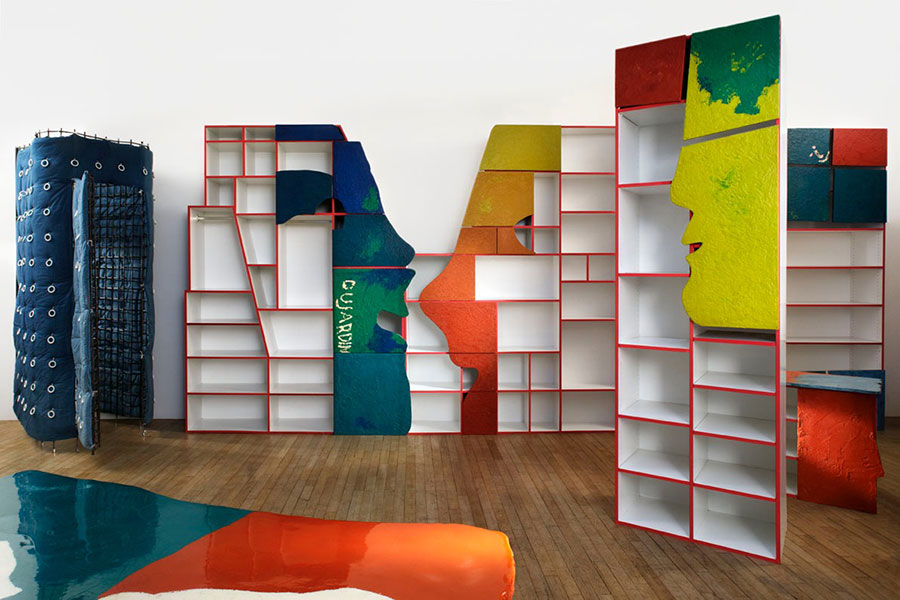 Gaetano Pesce and his multiple universes with playful forms which furnished, among others, some Dujardin stores in Belgium.
.. or even the one he made for Marc-André Hubain's apartment, in the early 80s! The shapes of this library, within this universe, was designed to create surprise in this Parisian apartment!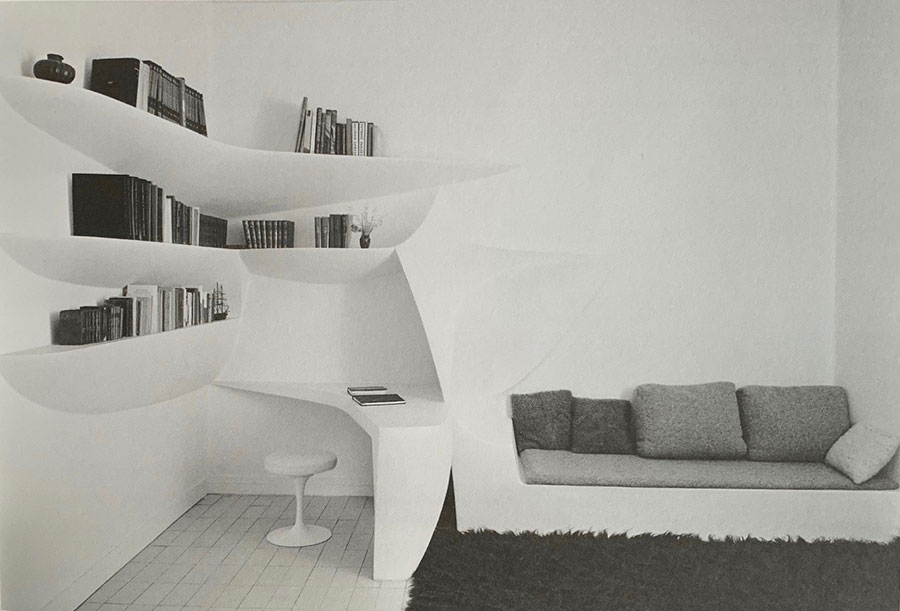 Valentine Schlégel includes the bookcase in the architectural space of the house. From the independent furniture that we usually see, it blends into the interior architecture of the apartment. She will make several different models!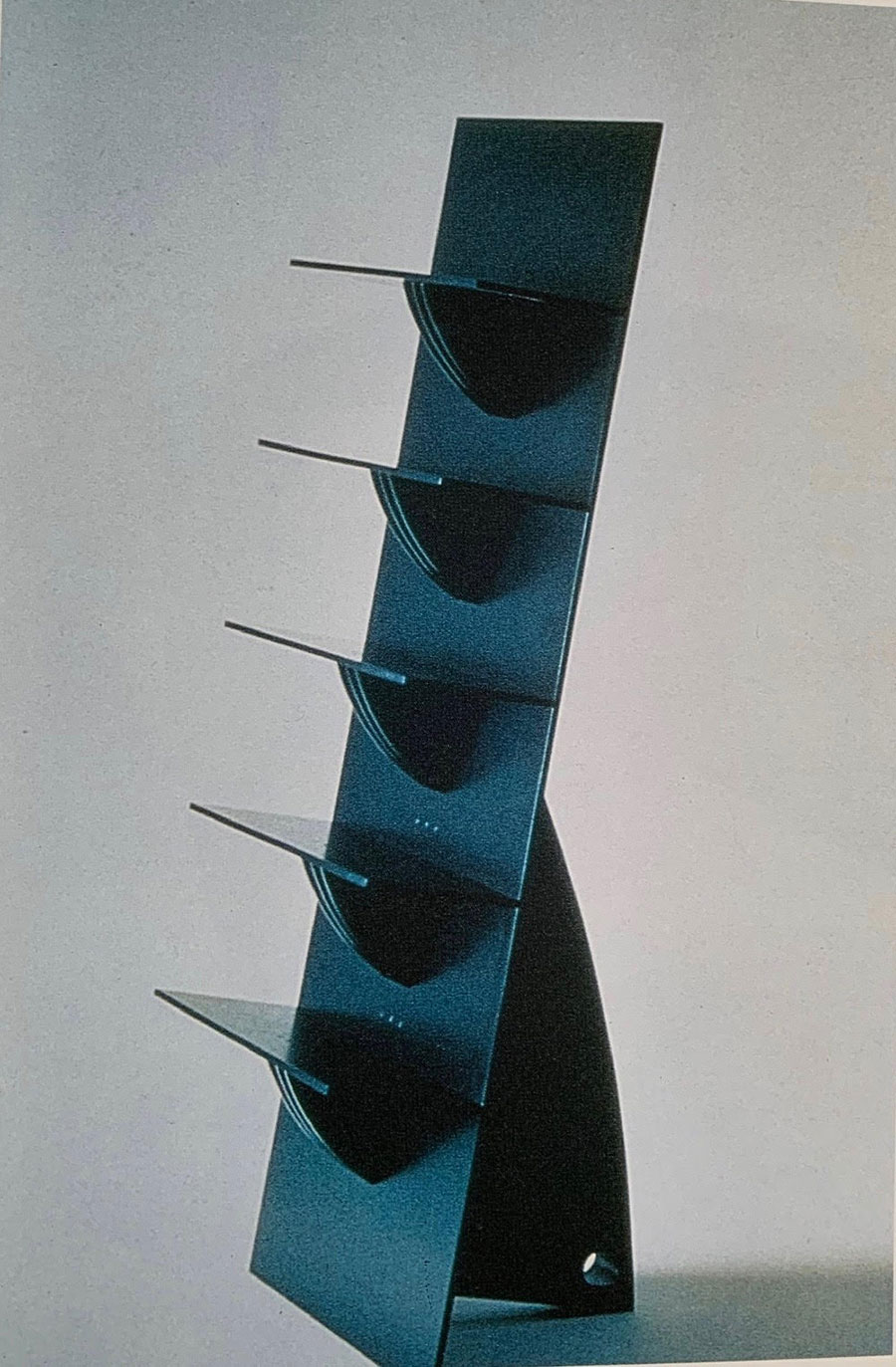 Martin Székély and his bookcase with radical forms from the 80s!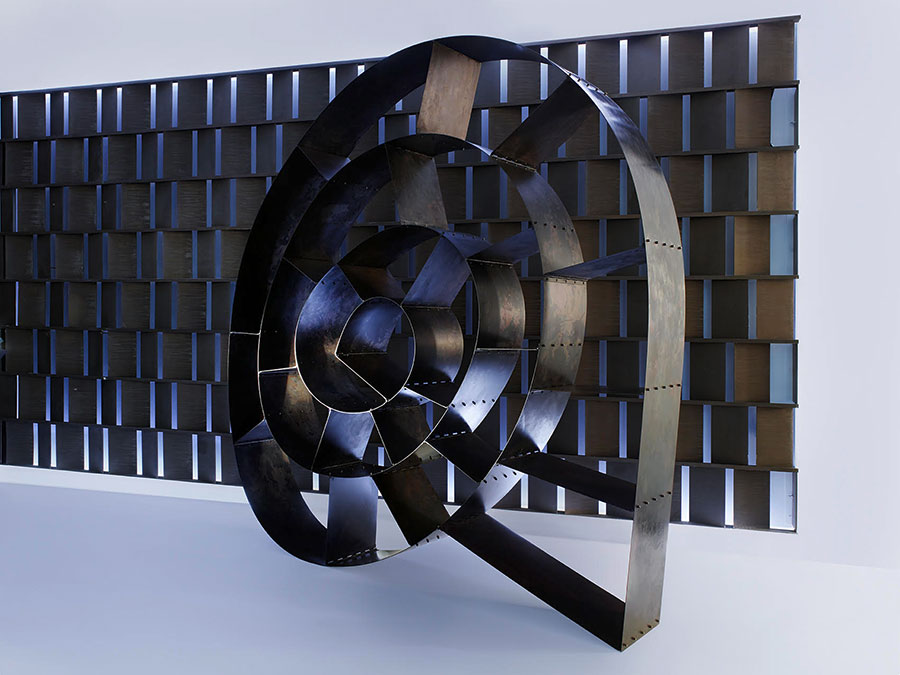 .. Ron Arad with his industrial libraries made of cut sheets; the 'Mortal Coil' bookcases become real sculptures!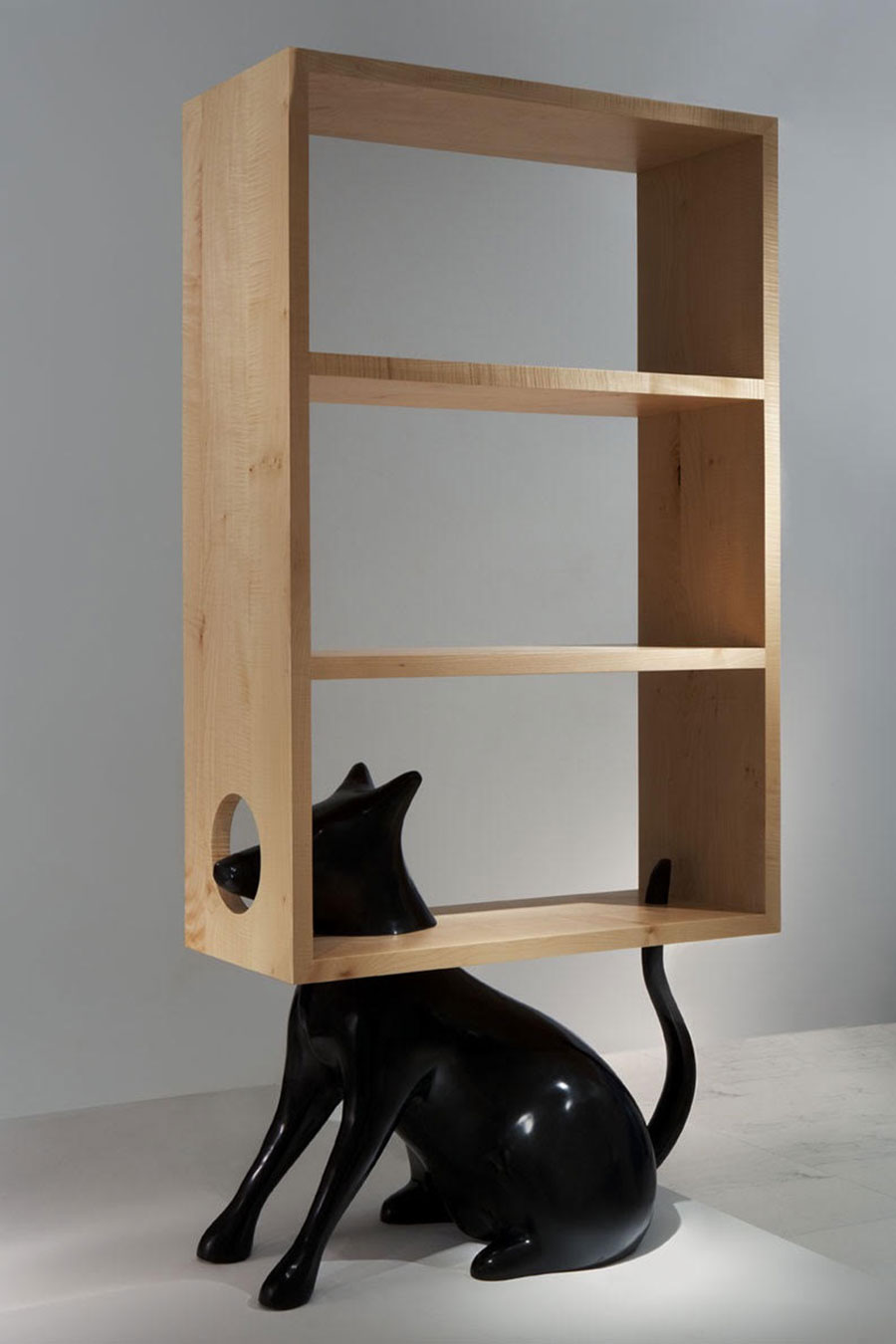 Finally, Pucci de Rossi's bronze universe with this library from his latest series: Bronze nuptials!
… In the conclusion,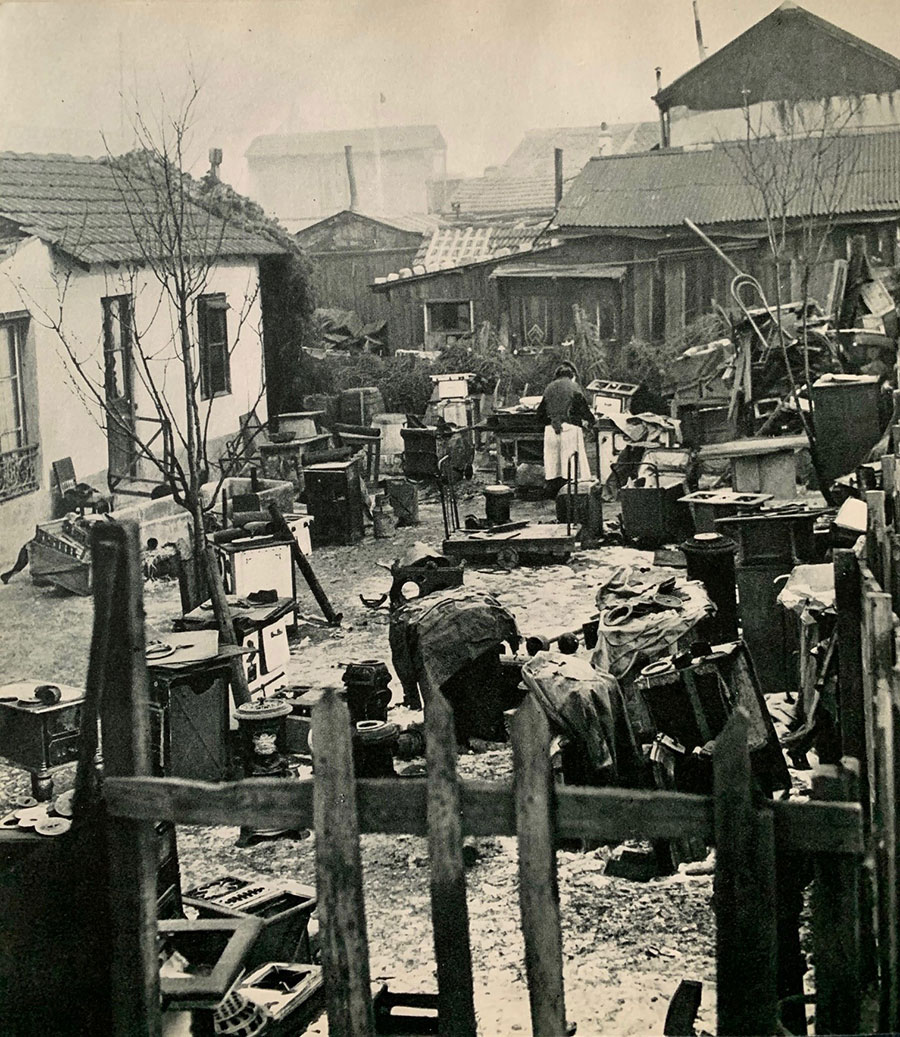 1 .. First of all, when you move in, it is a question of thinking how the bookcase will integrate into the furniture of the house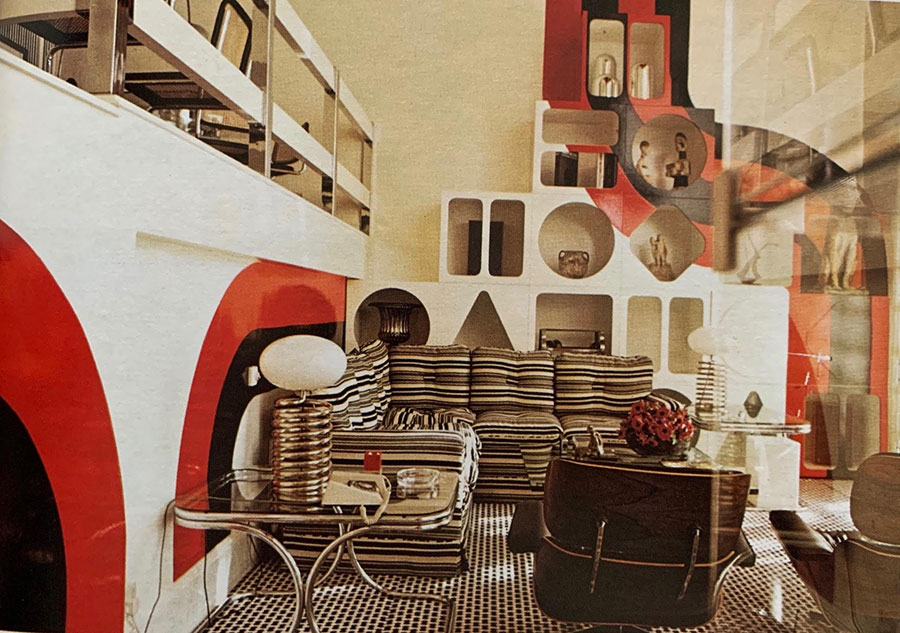 2 .. Then take the time to choose where to position it, in the space of the house in relation to the existing décor!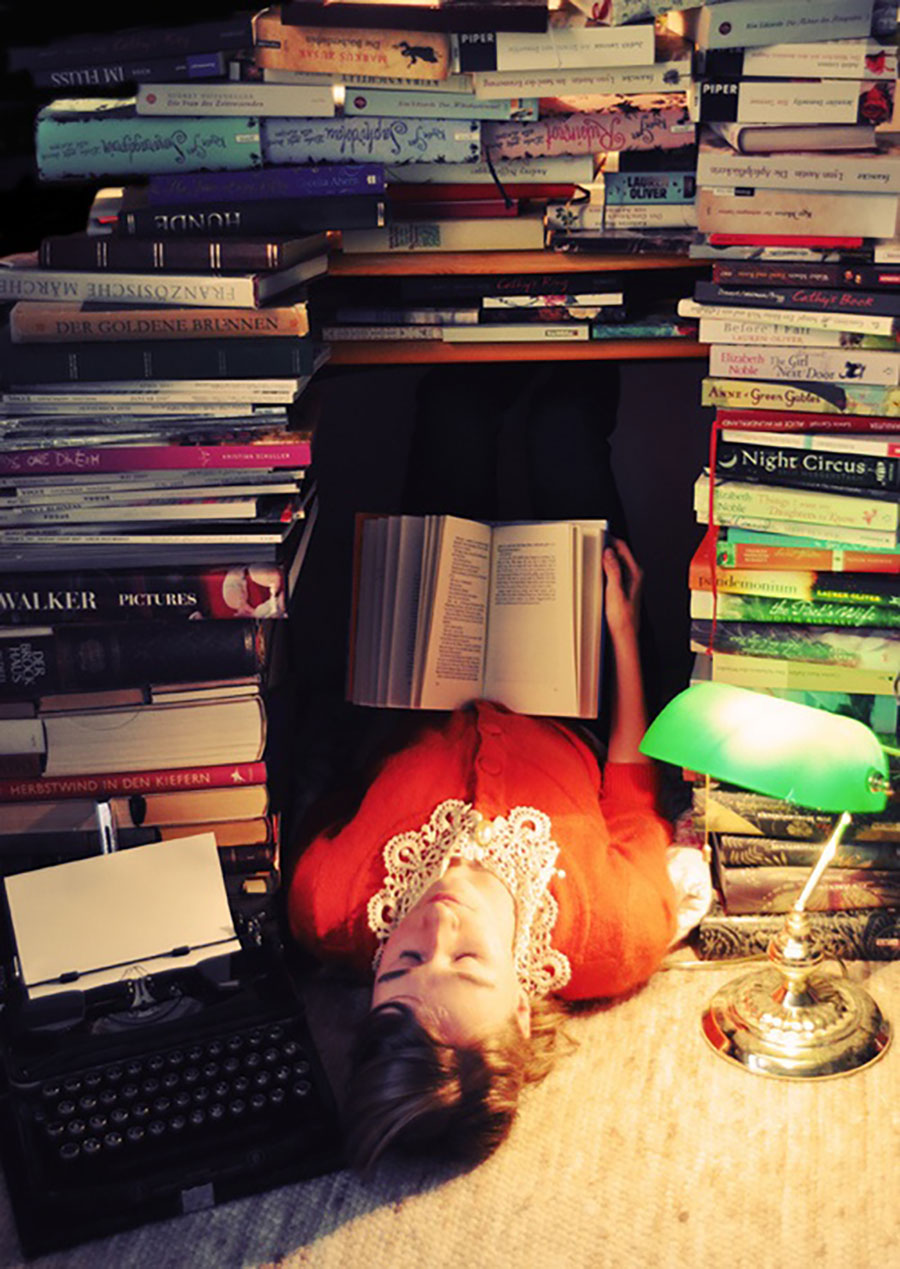 3_ Finally, you have to know how to appreciate it and live with it.